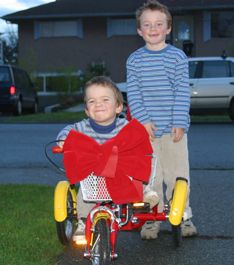 CanAssist is an organization at the University of Victoria that is dedicated both to helping those with disabilities improve their quality of life and to increasing awareness and knowledge of disability issues.
We are primarily a service-based organization, but employ the considerable educational and research resources available to us at UVic. We focus on developing practical, customized technologies for people with disabilities, as well as providing innovative programs where there is a gap in existing services.
Since its early days as a small volunteer venture, CanAssist has had a direct impact on the quality of life of many thousands of people with disabilities and their families.
Today, we have a core team of professionals who are deeply passionate about their work. This group includes inventive engineers, ingenious computer programmers and inspired program coordinators, all who work directly with our clients and their families. We also rely on participation of hundreds of students and volunteers each year.
As part of the University of Victoria, CanAssist enjoys access to the university'ssuperior infrastructure and administrative resources. A substantial portion of our revenue goes directly to projects that assist those with disabilities - typically at no charge to the individuals and families who request them. Our day-to-day operational costs are funded largely by donations, service contracts, project-specific grants and commercialization opportunities. We are always looking for such partnerships in order to offset the cost of running our program.
CanAssist also works closely with many in the wider community, such as businesses, non-profit groups, schools, health-care providers and all levels of government.
Together we are working with two common goals: to find new and better ways to increase independence and accessibility for those with disabilities and to promote a fully inclusive society where everyone contributes and belongs.
Please select from the menu items on the left for more information.
Go to Top