Vancouver Island Health Authority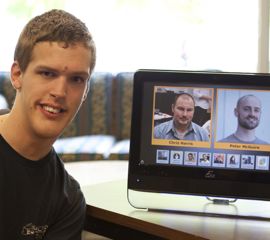 CanAssist is delighted to have begun working in partnership with the Vancouver Island Health Authority to help people with complex health challenges by providing them with customized assistive technologies.
The CanAssist-VIHA partnership - called CanFITT (Can Facilitate Independence Through Technology) - was formalized under an agreement signed in September 2011. It is a pilot project that will demonstrate the extent to which customized technologies can increase independence, reduce health-care costs and improve quality of life.
The pilot is being funded by a $500,000 grant from the B.C. Ministry of Health (see the news story). CanAssist technologies will be provided to as many as 35 VIHA clients who have significant physical and cognitive disabilities, including those who are supported by Choice in Supports for Independent Living (CSIL).
The pilot is to take place between September 2011 and December 2012. Ultimately, the technologies delivered will be designed to increase each client's independence in daily living and reduce his or her requirements for one-on-one support from caregivers.
We will be including articles here on clients who have received CanAssist technologies through this partnership. Please check back soon.
Go to Top