Our Team
Blake Walter
Ability411 Team Lead
Pronouns: they/them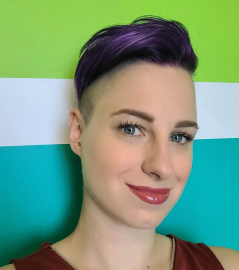 Blake is a fourth-year student at the University of Victoria and will graduate with a Bachelor of Arts in Psychology in 2023. Prior to being accepted into the CanWork co-op program, Blake had experience working with children with disabilities in Germany, helping provide assistive technology to BC seniors, acting as an office manager for two small, local businesses, and being the primary caretaker of several family members struggling with physical and mental challenges and end of life care. In addition, they bring extensive volunteer experiences to the table in which they helped improve the lives of low-income women through WIN (Women in Need), animals through SPCA BC, and people with disabilities through Peer Connections.
As the Ability411 Communications Assistant Co-op, Blake Walter is responsible for helping answer questions on assistive technologies and techniques for seniors, as well as conducting market research, collaborating on findings and sharing new technologies on Ability411.
Blake's life passion is to work with and for people with disabilities and leaving the world a little better than they found it. In their private life, this passion shows itself in their activism for LGBTQ+ and animals rights. Blake prides themselves in being a member of Nerdfighteria, a global community of scientists, nerds, and geeks working together to decrease world suffering through projects such as Awesome Sock Club, Project for Awesome, and Support Partners in Health's work in Sierra Leone to improve maternal and child health.
Go to Top