Students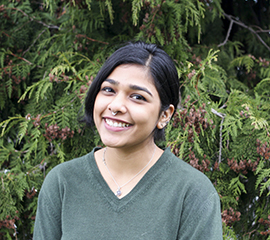 Addie is an international student in her final year of her bachelor's degree in Computer Science with a minor in Music at the University of Victoria (UVic). She has previously worked as a Senior Community Leader in Residence Life and Education at UVic as well as been keenly involved in the university's fundraising efforts through UVic's Annual Giving Calling program, both as a caller as well as a supervisor. This is where she first learned about the amazing initiatives at CanAssist that eventually led her to seek out a job opportunity with the organization. During her term as a Software Developer Intern, she will be assisting in building accessible mobile apps for the community.
Addie enjoys singing and playing the guitar and is an active participant of the UVic Vocal Jazz Ensemble. She recently picked up calligraphy and painting and likes to spend her downtime snuggling her cat Sunny!
Search for another team member:
Find another student who is currently working with us.
Go to Top