Students
Emma Sullivan
TeenWork Job Coach Practicum Student | Community, Family, and Child Studies | 4th-year Child and Youth Care
E: teenwork7@uvic.ca
P: 250-472-5954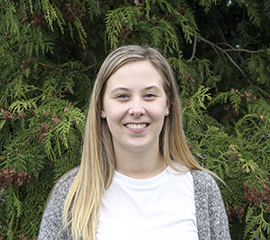 Emma is a fourth-year student at the University of Victoria, completing her final practicum with TeenWork. She will be receiving her Child and Youth Care degree in June. Most recently Emma has worked in roles as a Behaviour Interventionist and an Inclusion Worker, which has provided her with experience working with children and youth with disabilities in community and recreational settings. Emma is thrilled to be a part of an organization that works alongside youth to find meaningful employment.
Search for another team member:
Find another student who is currently working with us.
Go to Top