Students
Sydele Merrigan
TeenWork Job Coach Practicum Student | B.A., University of Alberta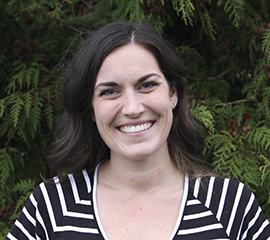 Sydele is originally from Edmonton, Alberta where she completed a Bachelor of Arts degree at the University of Alberta. During her undergraduate degree, Sydele worked in a Psychology lab where she gained an appreciation of, and the skills to conduct sound research. In an effort to broaden this skill base, she completed a psychology internship at a mental health and brain injury hospital where she applied these skills to conduct evaluations of the different mental health and addiction programs in the hospital. After her undergraduate degree, Sydele worked in a youth residential addiction treatment centre; supervised a housing first program for chronically homeless families; and completed years of service with the Ministry of Children's Services. These positions provided valuable insight into the complexities of social support and inter-sectoral collaboration, as well as into the lived experiences of marginalized groups. These new insights inspired Sydele to pursue graduate studies at the University of Victoria in public health and social policy, where she can build on her knowledge to promote funding for, and the creation of, services and programs for marginalized individuals. Sydele will be completing her practicum with TeenWork in January 2019 where she will put into practice what she has been learning in the classroom as it relates to program evaluation. Sydele is very excited to be apart of a community that promotes social inclusion and positive outcomes for these individuals and their support networks.
Search for another team member:
Find another student who is currently working with us.
Go to Top