Executive
Robin Syme
Executive Director | B.A. English, Professional teaching certificate, M.A. Language Arts
E:
rsyme@uvic.ca
P: 250-721-7123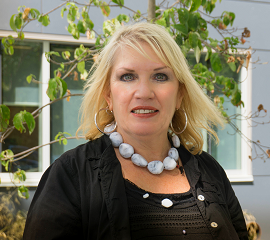 As Executive Director, Robin Syme is responsible for leading CanAssist from both a strategic and operational perspective. She is accountable for achieving CanAssist's goals, strengthening existing partnerships and securing new collaborations to further support individuals with disabilities in improving their independence and quality of life through innovative technologies and programs. In support of these accountabilities and goals, Robin engages with faculty, students, external clients, volunteers, donors and other funding partners, as well as with stakeholders at the university, in the disability community and beyond.
In her previous role as CanAssist's Director – Partnerships, Robin identified potential partners and opportunities for collaboration at the community, provincial and federal levels, while also being responsible for a portion of the day-to-day operations at CanAssist. She has been highly successful in securing partnerships with organizations such as WorkSafeBC, Community Living BC, and most recently with the B.C. regional health authorities in partnership with the Ministry of Health. Prior to joining CanAssist, Robin held a number of senior social policy positions with the provincial government for more than 20 years. Robin has considerable experience in establishing innovative partnerships such as Success by Six with United Way of the Lower Mainland and Credit Union Central, in addition to providing policy and program development leadership with respect to early childhood development, child care, public health, mental health, services and supports to children and youth with special needs and adult community living.
Search for another team member:

Find a student who is currently working with us.
Go to Top