TeenWork Employment Program
Kayla Cudmore
TeenWork Job Coach | B.A. Psychology
E: teenwork2@uvic.ca
P: 250-721-7670
C: 250-896-7363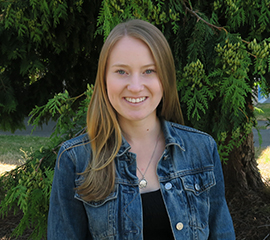 Kayla is thrilled to have joined the team at TeenWork in November 2017. She is a recent graduate from the University of Victoria with a Bachelor of Arts Degree in Psychology. For several years Kayla has worked with children and youth in a variety of recreational and classroom settings. Kayla's experience as an Educational Assistant, Early Childhood Instructor as well as her extensive volunteer experience have sparked her passion for providing inclusive environments where individuals can confidently learn and grow. Kayla enjoys using her creativity and critical thinking skills to develop personalized methods of support for people with disabilities. Kayla is excited to be a part of an organization that aims to empower young individuals by supporting their employment goals.
Search for another team member:
Find a student who is currently working with us.
Go to Top