TeenWork Employment Program
Kyle Anderson
TeenWork Job Coach (Inclusive Sport and Recreation) | B.Sc. Kinesiology, M.A. Counselling
E: teenwork6@uvic.ca
P: 250-472-5954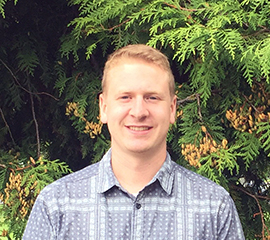 Kyle graduated from the University of Saskatchewan with a Bachelor of Science (B.Sc.) degree in Kinesiology before pursuing a Master of Arts (M.A.) degree in Counselling at Adler University in Chicago, Illinois. Kyle has worked with individuals with a variety of mental health diagnoses and other challenges work towards positive behavior change. His experience working with children and youth in a variety of recreational and educational settings will prove to be an asset in developing personalized and creative interventions. He looks forward to applying his experience and knowledge to assist youth find meaningful, paid employment and developing essential life skills for the future. Kyle is very excited to join the TeenWork team and be part of such a passionate and meaningful organization.
Search for another team member:
Alphabetically, by last name
Find a student who is currently working with us.
Go to Top