Our Team
Kyla Cleator
Program Manager
Pronouns: she/her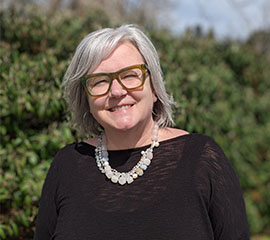 Kyla has several decades of educational leadership experience in the public education sector, both in Alberta and BC. She has a master's degree in educational psychology and has worked as an Education Behavioural Consultant, a supervisor of a multidisciplinary team in a large metro public school district, as well as a District Principal of Inclusive Education in the Greater Victoria School District. Kyla has a passion for inclusion and accessibility and is looking forward to collaborating with a variety of partners and stakeholders in supporting persons with disabilities to find success in their employment journeys.
In her spare time, Kyla is part of a Ukelele group on Mayne Island. She also enjoys singing with the Ukelele group, reading, gardening, kayaking, painting and travelling.
Complete individual Territorial Acknowledgement:
I acknowledge and respect the lək̓ʷəŋən peoples on whose traditional territory the university stands, and the Songhees, Esquimalt and WSÁNEĆ peoples whose historical relationships with the land continue to this day.
Departmental Placement (Special Projects, Provincial Employment Strategy ect):
As a Program Manager, Kyla is responsible for managing the project Closing the Employment Gap for Persons with Disabilities: Innovative Assistive Technology Solutions. She will also play a central role in supporting special projects in partnership with various government ministries and community-based organizations that support persons with disabilities.
Go to Top