Our Team
Nora Loyst
Special Projects Team Lead | B.A. Health and Community Services
Pronouns: she/her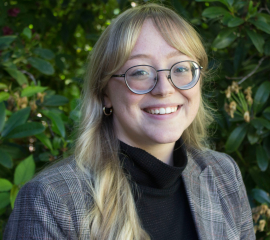 As the Special Projects Team Lead, Nora engages in research and collaborates with stakeholders to understand the barriers to inclusion experienced by a target population. In particular, Nora is coordinating the development of an Inclusion Training Module for BC Child Care Providers and Early Childhood Educators.
Nora is a University of Victoria graduate, holding a B.A. in Health and Community Services from the school of Public Health and Social Policy. She brings skills in project coordination, program development and stakeholder engagement from her previous work experiences with CanAssist's CanWork employment program, and UVic Student Affairs.
Nora is passionate about creating supportive policies, programs and resources for people with disabilities and is thrilled to be a part of the team at CanAssist.
Go to Top