Our Team
Patrick Jobe
Employment Strategy Manager
Pronouns: he/they
P: 250-472-4795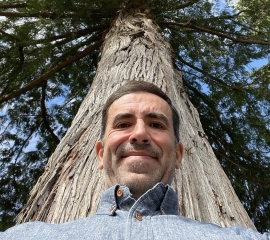 Joining the CanAssist team in July, 2021, Patrick brings a principled but fluid worldview to the role of Employment Strategy Manager. Passionate about supporting human potential, Patrick will be working closely with CanAssist leadership to lead the development of the Provincial Employment Strategy for Youth with Disabilities, for the Ministry of Social Development and Poverty Reduction. This three-year project will be guided by a Provincial Network of key stakeholders.
Before joining CanAssist, Patrick's professional pursuits have been wide and varied, including a career working with Community Living British Columbia in various roles; designing and delivering meaningful supports to those experiencing disability in the community; supporting mental health recovery for high-risk, high-needs youth; and, spending too many work-days on many of the province's most beautiful mountains and ski hills.
Patrick enjoys spending time with family and friends, spending time recharging in and around our province's outdoor playgrounds, and using every pot in the kitchen to enjoy the rich and bountiful foods available to us on Vancouver Island.
Go to Top