Our Team
Tiffany Parks
AccessWork Team Lead / TeenWork Job Coach | M.A. English, Post-Secondary Teaching Certificate
Pronouns: she/they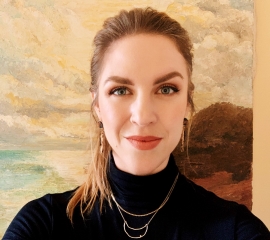 Tiffany is committed to creating more spaces where people with disabilities can come forward, be seen, and become powerful self-advocates in a world that wasn't designed for them. Her work at CanAssist aims to celebrate neurodiversity and disability by helping participants build confidence and apply their unique strengths in the classroom, workplace, and beyond. Her vision of a truly inclusive society is one where everyone can participate in meaningful and challenging employment opportunities.
Prior to joining CanAssist, Tiffany worked as a Learning Strategist at UVic's Centre for Accessible Learning, where she assisted undergraduate students in developing customized skills and strategies for meeting their learning goals. Tiffany has taught literature and academic writing units in the University 201 program and UVic English department, where she trained as a PhD student in postcolonial literature. Tiffany has also completed the Learning and Teaching in Higher Education (LATHE) program, where she developed a keen interest for accessible classroom and curriculum design. She considers herself a teacher at heart.
Tiffany is a voracious reader and loves a good story. She originally hails from Northern Ontario but has called Victoria home for the last 10 years.
Go to Top