Take the CanAssist Co-op Challenge

Help increase students' opportunities to contribute to people with disabilities
A critical component of the CanAssist program is its engagement of students and faculty at the University of Victoria. In fact, its integration with the university community is what makes CanAssist unique in North America among providers of assistive technologies for people with disabilities.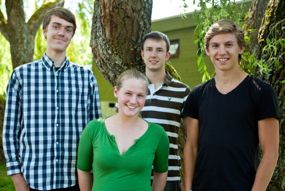 As part of a bustling campus, CanAssist recognizes the importance of giving university students, faculty and staff the opportunity to support and interact with people with disabilities and to learn about disability issues. As students, in particular, make their way in the world and assume leadership positions in society, those who've had such experiences are much more likely to be passionate and effective supporters of increased inclusion and accessibility. One way for CanAssist to engage students is through co-op placements.
In the current economic climate and with so much competition for scare philanthropic resources, it has become difficult for CanAssist to pay the salaries of co-op students. But we now have a unique opportunity to help CanAssist and make our contributions go further.
With your support, CanAssist is working to build an endowment that would provide the resources needed to hire co-op students on an ongoing basis. This would result in more customized technologies to help improve the quality of life of people living with disabilities in our communities and would provide valuable hands-on experience for our undergraduate and graduate students.
If we can raise at least $25,000, each donation made to
The CanAssist Co-op Challenge
will be matched dollar-for-dollar!
By donating to
The CanAssist Co-op Challenge
you can help change lives – not just our clients', but engineering students' as well. Make a gift today and help be a part of that change!





Contact


Anne-Lise Loomer
Development Officer
Tel: 250-853-3948
Email: loomera@uvic.ca



Go to Top