Many ways to support CanAssist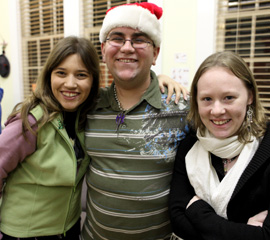 There are many ways to invest in the life of a person with a disability:
Make a difference in the life of a child or person with a disability. Donations can be made at anytime during the year through our website, by phone, by mail or in person at our office. You can also consider becoming a monthly donor.
Make a gift"In Memory" of a family member, friend or colleague who has passed away. It's a way for you to remember someone special and to tell others how much this person meant to you.
Make a gift"In Honour" of a person or an organization as a way of saying thanks. "In Honour" gifts may be made in celebration of a birth, birthday, anniversary, Bar/Bat Mitzvah or wedding.
Invest in the community! We welcome committed financial support from business, and we will customize a partnership to blend your organization's goals and priorities with our own. Your organization can provide specific funding for adaptive devices.
Company matching grants give you the chance to get your organization more actively involved in corporate philanthropy. Many companies have a Matching Gift Program, often doubling the individual tax-deductible gifts made by their employees. Contact your Human Resources department for more information.
When you donate publicly traded securities to a registered non-profit charitable group like CanAssist, you will no longer pay tax on the capital gain. This is just one more way giving to CanAssist is easier than ever before! Publicly traded securities include:
Public company shares
Mutual funds
Bonds
Employee stock options
Third-party fundraising gives you a chance to have fun while raising funds! Get your clubs, community groups, co-workers and friends together to help raise funds for CanAssist. The possibilities are endless – organize an annual run or walk; cook up a delicious dinner party; or host a golf tournament.
Donations to CanAssist can be made through your own organization's United Way campaign. Simply direct your donation to the attention of "CanAssist at the University of Victoria" and watch your support make adifference in the life of a child or adult with a disability.
Donations of goods and services can be made to CanAssist. Please call us to discuss. Tax receipts may be issued for goods at fair market value.
Planned giving leaves a lasting legacy. Through a bequest in your will, you can significantly contribute to the community with a gift of assets (property, stocks or bonds), gift annuities, trusts or life insurance policies.What's more, planned gifts may qualify for significant tax deductions.
---
How to donate
With your generous donations, CanAssist can customize a toy for a child with cerebral palsy, develop a sophisticated communication system for a person with a severe disability or support a graduate student in a CanAssist research program – to name just a few possibilities.
Without a doubt, no matter the amount donated, each gift will bring a smile to someone's face.





Contact


Anne-Lise Loomer
Development Officer
Tel: 250-853-3948
Email: loomera@uvic.ca


Go to Top