A CanAssist special project challenge:

Support the development of accessible photography technology
One of CanAssist's most popular customized technologies has been a device that lets people with disabilities operate a standard digital camera independently. Unfortunately, the model of digital camera used with the technology has since become outdated and is preventing CanAssist from fulfilling the requests for new accessible cameras.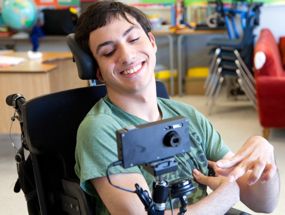 CanAssist wants to develop a new accessible camera that would overcome the problem of obsolescence. Specifically, CanAssist would develop a control box that would operate the camera on any Android device – including Android phones, cameras and tablets. The project would build on the engineering knowledge gained during the development of the old version, however this system would make cameras accessible to much larger numbers of people with disabilities. Undertaking this development would allow CanAssist to continue to provide accessible cameras to individuals that request them in the future.
Once developed, CanAssist could deliver camera systems to individual children or to classrooms in British Columbia. In the latter case, CanAssist would work with Special Education Technology BC (SET-BC) and the Inclusion Outreach (a provincial outreach program that works in the B.C. school system), two long-time partners, who would ensure the technology was made available to many of the most severely disabled children in B.C.'s public school system.





Contact


Anne-Lise Loomer
Development Officer
Tel: 250-853-3948
Email: loomera@uvic.ca



Go to Top