2009 News archives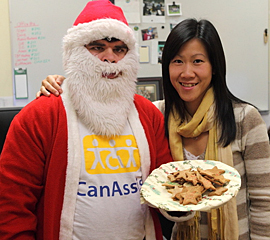 Staff members at CanAssist are sad to be saying good-bye to Project Coordinator Manjinder Singh Benning, who is leaving to pursue another position.
Manjinder, who has an M.A. in Applied Science (Electrical Engineering and Computer Music), will start a new job working in multimedia technology and digital fine arts.
Manjinder started working full-time for CanAssist in September 2007. Before that, he participated in various project collaborations with us during his undergraduate and graduate degrees at UVic. Manjinder's experience as a professional musician, electrical engineer and software programmer gave him a wonderful combination of tools to help improve the lives of people with special needs.
"My last two years here have been extremely fulfilling and enlightening," said Manjinder, whose projects at CanAssist have included: a computer eye-tracking project; technology that allows people to play music using the movement of their bodies; and software that organizes music for the visually impaired.
Manj said he hopes to continue to be involved with CanAssist to some extent in the days to come, helping out with certain future projects.
"I am really sorry to see Manj go, he has made a fantastic contribution to CanAssist," said Nigel Livingston, CanAssist's Director. "I will miss his energy, his unbridled enthusiasm and his passion for his work. Of course, I wish him all the best in his new job."

There's a lot of joking around CanAssist's offices about Dan Spelt's sweet tooth.
Dan frequently asks colleagues who leave the computer lab to "Bring me back a donut!" He puzzles over whether it's a chocolate milk or strawberry milk kind of day. And then there was the hot summer day when he told everyone how badly he needed a slushie and ended up with two icy drinks on his desk.
"I like to cover my bases," he quips. "I get hungry a lot."
There's no question that Dan has a well-tuned sense of humor. But the engaging 20-year-old's gifts go far beyond his ability to make his colleagues laugh. He runs a small business, volunteers, goes to college and still manages to find time to get to the movies with friends.
On top of all this, Dan, who has cerebral palsy, recently celebrated his one-year anniversary as an employee with CanAssist.
Dan's connection with CanAssist began five years ago when his grandfather asked if we could build a special keyboard tray for his teenaged grandson. Dan, who loved working on computers, had always typed with his lips. But he had never been able to find an adjustable keyboard tray that could be raised and tilted to exactly the right position.
"I remember Dan as being a nice young guy when I first went to meet him in his home," recalls Darcy Lane, who at the time was a student working on one of his first projects for CanAssist. "I knew right away I would enjoy working with him."
Darcy, who is now CanAssist's Hardware Manager, designed a keyboard tray that made it easier and more comfortable for Dan to work on the computer.
Later, Software Manager Leo Spalteholz recruited Dan as a volunteer to help test some assistive technologies for CanAssist – including the Dynamic Keyboard and KeySurf.
"Dan knows about the underlying technology, which makes him an ideal tester," says Leo. "He's not afraid to point out any problems he encounters."
Last year, Dan was asked if he would join CanAssist as a research assistant. He began with a project that involved researching what other groups are doing in the area of assistive technologies. He also regularly helps with our youth program, VOCYL, creating videos and organizing participant information.
More recently, Dan has been working on a program that automatically notifies clients and their caregivers when a HandyDart taxi will arrive for them.
"He's only 20 years old but he's got a lot of responsibility," says Tanya Switucka, CanAssist's Client Relations Coordinator. "He needs to be very organized just to plan his daily schedules."
In fact, one of these responsibilities is running a business with his mother, called DanCare. Because of his disability, Dan needs a lot of support as he navigates his days. All the work that goes into interviewing, hiring and paying his assistants, ensuring that he has all the equipment he needs, and organizing his numerous transportation requirements qualifies DanCare as a small business.
Typically, Dan's days begin at 6 a.m., when he starts getting ready to attend early-morning computer science classes at Camosun's Interurban campus. Later in the morning, he heads over to UVic to work at CanAssist.
On Friday evenings, when most people are preparing to go home, Dan gets help moving from his desk chair at CanAssist into his wheelchair. Then he heads downtown to volunteer for three hours with a group who distributes food to people in need.
"I sleep like a log," Dan admits. With a smile, he adds, "You should put that in!"

CanAssist is delighted to be celebrating the tenth anniversary of Just for Kicks, its soccer program for children with special needs.
Over the past decade, youngsters have been coming out to make new friends and play informal games on Sunday afternoons at UVic's McKinnon Gym.
Each year, about 30 children and 20 volunteers meet to take part in the free program, which runs from September through March. No matter their age or what challenges they face, all children are welcome to join.
"It has been wonderful to be part of this program – you can't go away from the games without a smile on your face," says CanAssist Director Nigel Livingston, who founded the program in 1999. (That was the same year CanAssist, then called UVATT, was established and its first assistive technology developed.)
The ongoing success of Just for Kicks is due largely to the dedicated volunteer soccer buddies and coaches who play alongside the young athletes to ensure they have a great time and play safely. If you or someone you know would like to volunteer or to join us as a participant, please contact us.
CanAssist was delighted to welcome Senator Jim Munson to tour our facilities and learn about our many programs and technologies.
On Sept. 8, Senator Munson spent the morning with our clients, their families, volunteers, co-op students and staff, who demonstrated CanAssist technologies and conveyed their enthusiasm for our programs, including Teens at Work, VOCYL and Just for Kicks. Following the tour, the Senator and many of those gathered got the chance to chat during a luncheon at the University Club.
Before his appointment to the Senate, Mr. Munson worked as a TV reporter and communications director for Prime Minister Jean Chretien. He is a strong and well-respected advocate for people with autism and their families.
We greatly appreciate the Senator's interest in CanAssist and thoroughly enjoyed having him visit us.

Thanks to Variety - The Children's Charity of British Columbia, 125 children with highly challenging disabilities will receive iPods tailored to meet their specific needs.
This exciting initiative is the result of a unique partnership of CanAssist, the Provincial Integrated Support Program (PISP) and our funder, Variety - The Children's Charity.
Our collective goal with this initiative is to give special needs children the chance to enjoy music of their choosing and increase their independence.
"It's wonderful that children with some very challenging disabilities will be able to use current music technology, similar to their peers," said Barbie Hislop, Executive Director of Variety. "The adapted iPods will allow the sharing of music, something these children have never been able to do at all."
Variety is generously providing more than $68,000 to fund the project.
CanAssist will be responsible for customizing the iPods to meet the needs of each child. PISP will deliver the customized devices to the 125 pre-selected children across B.C. and teach them how to use their new iPods. The first five customized iPods are expected to be completed early this fall with the remaining units completed and in the children's hands between this December and March 2010.

Athletes at Operation Trackshoes were given the chance to try out a new switch-activated baseball bat developed by CanAssist engineers.
The annual sporting event for B.C. residents with intellectual disabilities was held at the University of Victoria recently. CanAssist offered to host a batting station for interested
participants.
The automated batting device includes a metal base on wheels and a clamp that holds a foam baseball bat. At the event, a CanAssist team member would cock the spring-loaded bat, which was lined up to hit a ball perched on a T-ball stand. Once ready, a participant would push down on a pedal that released the bat.
"It was great to offer the opportunity and the athletes really seemed to enjoy it," said Tanya Switucka, one of a number of CanAssist staff members who volunteered at the event. "People whose disability doesn't allow them to hold a baseball bat were able to swing at the ball independently."
CanAssist is working on a new version, which will allow users to swing the bat at varying angles. Other devices in the works include an automated golf club and a bow and rubber-tipped arrow set.
Operation Trackshoes, in its 39th year, attracts participants of all ages from across the province to participate in the events of their choosing. At this year's event, there were more than 500 competitors. The event relies solely on the support of volunteers to assist
the participants.
CanAssist would like to congratulate our technical coordinator, Ryan Truant, on being accepted into the medical program at the University of British Columbia.
In 2005, Ryan began volunteering for CanAssist and a year later completed a work term with us. Since graduating with a Bachelor of Mechanical Engineering at UVic, Ryan has worked for us on a full-time basis, developing numerous devices to help those with special needs.
Ryan, who begins at UBC in September, said that providing devices that assist people in their daily life is very rewarding. He also said that working for CanAssist provides an excellent opportunity to help remove barriers, and make life more inclusive for those with disabilities.
"Ryan has made an outstanding contribution to CanAssist," said Nigel Livingston, Director of CanAssist. "Obviously we are sad to see him go but, on the other hand, we are delighted that he has achieved his goal of pursuing a career in medicine."

Youth with disabilities need to be provided with innovative opportunities as they enter adulthood to ensure they are fully included in society, participants in a workshop hosted by CanAssist agreed.
More than 70 people attended the disability research workshop, called Moving Beyond the Status Quo - Addressing the Challenges of Transitioning Youth with Disability. Participants at the June 19 event, which was held at the University of Victoria, included parents, researchers from four B.C. universities, and representatives from a wide range of community agencies and government. The workshop featured several speakers, breakout sessions, a luncheon and opportunities to network.
The event offered a chance to explore the possibility of forming new partnerships aimed at improving programs and services in this area. Some participants with special needs and their parents described the challenges of transitioning to adulthood with a disability. As well, several representatives from government, community agencies and university research centres affirmed that there are those in key positions in the community who are passionate about finding new ways to help youth in these sometimes challenging transition years.
"I was delighted with the workshop, it was a great success," said Nigel Livingston, director of CanAssist and a keynote speaker. "There was enormous enthusiasm, energy and passion."

CanAssist welcomes new development officer
Barbara J. Toller has joined CanAssist to lead and support the program's fundraising activities.
Barbara, who relocated from Calgary to become CanAssist's Development Officer, brings an extensive background in the non-profit industry. She has worked in the area of fund development for 13 years, most recently with the Boys and Girls Clubs of Calgary. Previously, she held positions at the Canadian Diabetes Association, Between Friends Club for youth with disabilities, and the Variety Club of Southern Alberta. Barbara is a member of the Association of Fundraising Professionals, serving on its Board of Directors for three years in Calgary. She obtained her Certified Fund Raising Executive (CFRE) designation in 2002.
"I am delighted that Barbara has joined us," said CanAssist Director Dr. Nigel Livingston. "I am sure she will make a huge contribution to our program."

CanAssist technologies that help people communicate were highlighted on The National, the flagship news program of Canada's public broadcaster.
The CBC feature, which aired May 22 across the country, focused on a CanAssist invention that lets people who find it difficult to use computers make live voice-and-video calls over the Internet. Other CanAssist technologies explored on the program include a device that allows a person to "select" icons or images on a computer screen by using his or her forehead muscles, and another that enables a user to make choices simply by looking at selected images or letters on the screen.
Reporter Chris Brown said that CanAssist's technologies bring a sense of connection to those who often feel isolated the most. Watch the CanAssist feature on the CBC website.
An exciting new technology from CanAssist helps those who have difficulty using a phone or computer to stay connected with the people they love.
The new program, called "CanConnect," is based on Skype, a software application that lets people make free phone calls over the Internet. CanConnect takes Skype a step further by making the technology accessible to people who have never used computers, who are intimidated by them, or who are unable to use a mouse or keyboard because of a disability. In addition, users enjoy a visual connection with the person they contact.
To use CanConnect, a person views a gallery of photos, which are displayed on a computer screen. Usually, the gallery consists of a handful of photos of loved ones, pre-determined by the user or their caregiver. By touching one of the photos, video and audio contact is automatically established with the person of choice.
While CanConnect was officially unveiled April 15 in Nanaimo (click here for media release), CanAssist has already embarked on a number of related projects to address the needs of a wide range of users. For example, CanConnect will be used by disabled children in remote communities, who by activating a single switch will be able to connect with family and friends.
Congratulations to the project's leader, CanAssist Software Manager Leo Spalteholz, along with Ann Chou, a third-year co-op student who assisted him.

Director Dr. Nigel Livingston and the CanAssist team have received the C-FAX Community Award for Teamwork.
The award from the C-FAX 1070 radio station recognizes a team that has made major contributions to the community by working together effectively.
"CanAssist is an inspiring example of how dedicated research leadership can bring together a highly talented multi-disciplinary team of faculty, staff, students and community partners to achieve technological advances for social benefit," C-FAX stated in a Times-Colonist feature.
CanAssist staff - who place great value on teamwork, community involvement and inclusion - were thrilled to win the award, which was presented at a special luncheon April 29 at The Westin Bear Mountain Victoria Golf Resort & Spa.
C-FAX has held its Community Awards since 1982 to recognize those who make the community a healthier, happier and more vibrant place to live. Each year, individuals and groups are selected from eight categories, including citizen of the year, youth leader, business leader and teamwork.

Part of the CanAssist team is moving from its current location in UVic's Engineering Office Wing to the Technology Enterprise Facility (TEF), located on the other side of campus. The move will be completed by May 6.
The change in location will affect CanAssist's administrative team and its computer-engineering lab. However, CanAssist's mechanical and electrical engineering groups will remain where they are, in the university's Cunningham Building.
The Technology Enterprise Facility is located at 2300 McKenzie Ave. near Gabriola Road. The building is situated across the street from the parking lots behind the McKinnon Gym and UVic's tennis courts. The CanAssist team will occupy rooms 220, 240, 243, 244, 245 and 252.
TEF houses a number of technology-based companies that work closely with the university's research community. The temporary move to TEF is expected to last several months, until the entire CanAssist team is united under the same roof for the first time. In the late summer of 2009, all CanAssist members are scheduled to move to E-Hut, which has about 5,000 square feet of renovated space and is located near the McKinnon Gym.
CanAssist is very grateful to the Faculty of Engineering for so generously providing space to our team in the Engineering Office Wing for the past two years.

Dr. Nigel Livingston and the CanAssist team are honoured to have received one of this year's Craigdarroch Research Awards, which recognize the top researchers at the University of Victoria.
The awards, established in 2003, were given out to winners in five categories during an evening ceremony on April 7 at the Art Gallery of Greater Victoria.
Those gathered at the event learned that since its inception in 1999 CanAssist has excelled at bringing together faculty, students, staff and community volunteers to develop customized technology, programs and services for those with special needs. The evening's program described CanAssist as "a successful and inspiring example of how universities can engage the community to accomplish profound benefits for society."
Meanwhile, an article in the Times-Colonist notes that the award recipients are making life better for people in Victoria and around the world.
"CanAssist has involved hundreds of students from virtually every discipline on campus as well as many more community volunteers," the editorial of April 13 states. "It is a remarkable example of how a university can benefit society as a whole."

CanAssist will be able to purchase the equipment it needs to provide more assistive technologies to people with disabilities, thanks to funding from the federal government.
A contribution of $272,000 was announced by the Honourable Lynne Yelich, Minister of State for Western Economic Diversification, at a gathering in UVic's Engineering building. CanAssist will use funds from its own operating budget to match the grant, resulting in $544,000 being spent on state-of-the-art prototyping and machine shop equipment. This much-needed equipment will allow CanAssist to take on more technology projects, pursue commercialization opportunities, become increasingly sustainable and better support those with disabilities across the province.
CanAssist would like to thank Western Economic Diversification Canada for its generous support.

We are delighted to announce that five new co-op students have joined the CanAssist team for the spring semester: Ann Chou, a 4th year student doing a combined major in Health Information Science and Computer Science, will work on our Skype Communication Project; Li Zhou, a graduate student from the Department of Electrical Engineering, will support the development of our Wireless Motion Sensor (WISP) technology; Matt Holland, in his final term of his Electronics Engineering Technology Program at Camosun College, will work on a number of electrical engineering projects; and Mechanical Engineering majors, Nigel Webb and Brandon Fry (each on their second co-op term with CanAssist), will work on the development of a variety of mechanical engineering devices.
We look forward to working with these bright young students and are excited about the outstanding contribution they will undoubtedly bring to our program.

The entire CanAssist team would like to congratulate Phil Zeman for successfully defending his dissertation: "Feasibility of Multi-Component Spatio-Temporal Modeling of Cognitively Generated EEG Data and its Potential Application to Research in Functional Anatomy and Clinical Neuropathology."
Under the co-supervision of Dr. Nigel Livingston, CanAssist Director, and Dr. Ron Skelton, Department of Psychology, Phil's research focused on modeling brain activity related to electroencephalography (EEG) recorded from the scalp - with the goal of determining which areas of the brain are active and, more particularly, which of these active areas are communicating with each other when a subject undertakes a relatively complex task such as playing a video game. The findings of this research will be applied to developing brain-computer interface technology, which can potentially benefit people with severe disabilities.
Phil will graduate with a Ph.D. in Interdisciplinary Studies (Engineering,Biology, and Psychology) this spring. Congratulations Phil!

On February 25th, CanAssist and the UVic Office of the Diversity Advisor jointly hosted our second UVic Disability Issues and Solutions Forum.
The session was attended by over 25 representatives from a wide range of campus groups and offices that provide support to students, staff and faculty with disabilities. The invited speaker was Andrew Wharton, Senior Advisor of Disability Issues, Ministry of Housing and Social Development, who provided a detailed overview of the BC Provincial Disability Strategy.
Additional forums are planned for the future. These sessions are designed to promote networking and collaborative opportunities among campus groups that support disabilities and, through this, establish UVic as a leader in university disability services and support.

We are excited to announce that two of our human-computer interface software tools are now freely available for download. The Dynamic Onscreen Keyboard and KeySurf are complementary software programs designed to allow people with disabilities to more effectively and easily use computers. The Dynamic Onscreen Keyboard is designed for people who have difficulties using a conventional keyboard. KeySurf has been developed to enable those who lack the dexterity to use a mouse to efficiently navigate websites using only a keyboard. We thank Shaw Communications for supporting the development of both these projects.
If you would like to download or learn more about either of these software programs, please click here.

We are very pleased to announce the award of a $104,000 grant from the Vancouver Foundation to support our We All Can Work program. The goal of this program is to provide and promote meaningful and inclusive employment and training opportunities for those with disabilities at UVic and, also, for teens with disabilities in our local (Victoria)community. The We All Can Work program also integrates the development of individualized assistive technologies that are designed to enable those with disabilities to keep working, or allow people with disabilities to enter the workforce.
We would like to thank the Vancouver Foundation for their contribution and support for this initiative. The Vancouver Foundation is Canada's largest and one of its oldest community foundations. Its mission is to create positive and lasting impacts in communities in British Columbia. To learn more about the Vancouver Foundation, please click here.

We are excited to announce that the UVic Board of Governors has approved preliminary planning for the construction of a new facility on campus. This news is especially significant to CanAssist, as we will be one of the two tenants in this new state-of-the-art facility joining the Department of Athletics and Recreation (ATRS).
Currently, CanAssist is housed in temporary space in separate campus buildings. With the proposed new facility, CanAssist will have dedicated access to ~10,000 sq ft of contiguous and accessible space specifically designed to meet the needs of our clients and our team. This new space will provide room for our research, assistive technology development and administrative activities and, most importantly, much more ideal space to support our clients and engage community partners.
We would like to thank UVic for demonstrating its commitment to persons with disabilities and to our program. By integrating CanAssist within facilities that will also house elite athletes, this new facility will be a showcase for inclusion.
For more information about this new facility, please click here.

Go to Top