Vancouver-area league to use unique batting device
Latest News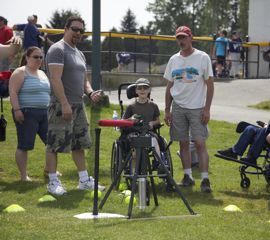 May 13, 2010
Young T-Ball players who have never been able to swing a baseball bat by themselves will be able to hit the ball independently, thanks to an innovative device that will be used for the first time this weekend.

On May 15, two Challenger teams will be using the CanAssist
BatSwinger
, a device that is believed to be the first of its kind. Members of the Challenger baseball league have a range of physical and cognitive disabilities that make it difficult or impossible for some of them to swing a bat on their own.
The BatSwinger was developed by engineering staff at CanAssist, a non-profit organization at the University of Victoria that develops innovative technologies and programs for people with special needs.
"A search of the Internet found nothing like this available commercially," said Scott, a member of CanAssist's engineering team, who helped develop the BatSwinger and will be on hand to see it used during the two ball games.
"This will be the first time we're delivering it to a team for use during a game, so it should be a lot of fun," he said. "And we'll be providing BatSwingers for each team's ongoing use."
The CanAssist BatSwinger is a recreational device that swings and hits baseballs from a tee. CanAssist created an earlier prototype that relied on a mechanical spring to propel the ball. The prototype did not prove very robust, so CanAssist abandoned it. The latest version, however, is powered by compressed carbon dioxide and can be activated simply by pressing a button – an important consideration for many kids with challenging disabilities. The device also has several safety features.
BC Challenger Baseball, a division of Baseball BC, provides an opportunity for children with cognitive or physical disabilities to enjoy the full benefits of participation in baseball at a level structured to their abilities.
Go to Top