CanAssist delivers latest version of Ball Launcher for Dogs
Latest News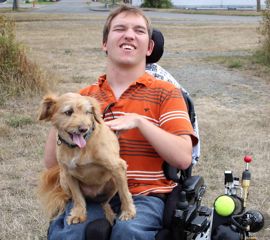 March 3, 2010
Kieron Forrester is in the dog walking business.
The young man from Victoria usually has several dogs around, including his own pet, Diesel. Recently, another canine companion has been added to the mix after a family friend with a new baby asked Kieron to give her very active Rottweiler some exercise.
For Kieron, CanAssist's Outdoor Ball Launcher for Dogs couldn't come soon enough. The launcher, which attach es to wheelchairs, enables people with disabilities to play fetch with their dogs.
Over the past several years, the ball launcher has become one of CanAssist's most frequently requested technologies. The launcher Kieron received is our latest and most effective version yet.
"We've changed things to make it more reliable, durable and easy to operate," says Darcy Lane, CanAssist's Hardware Manager.
The ball launcher's power still comes from compressed carbon dioxide, but the reservoir tank has been redesigned, as have the tubing and connectors through which the gas flows. The location of the valves, which the release the CO2, have been moved to make the design more ergonomic.
Two people from the B.C. mainland have also received the new device.
Sydney, who also received the latest version, is ecstatic to be able to play fetch with her two dogs on her own. Previously, the Port Alberni teenager always had to watch from the sidelines while someone else threw Hooch and Charlie a ball.
"The ball launcher really enables people to interact with their dogs in a way they may have never been able to do before," says Darcy. "The launcher makes them more involved with their pet. They're not just watching the fun, but fully involved in playing."
For more details on the Outdoor Ball Launcher for Dogs, please read the story in our Technology section.

Go to Top