Innovative vise makes sculptor's job easier
Latest News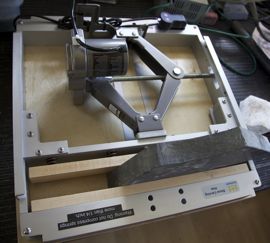 November 29, 2010
Garry Curry is one of a group of artists who work at a Victoria-area studio, turning slabs of stone into gorgeous sculptures.
Not long ago, CanAssist made chisels easier to use for Garry and another sculptor, Alistair Green. More recently, Garry approached us with a plan to create a vise that would hold a smaller piece of stone securely in place when an artist worked on it.
"Gary had a vise from Canadian Tire that wasn't working for him – he had trouble opening it," says Mike Lewis, the engineering co-op student who worked on the project.
So Mike set to work, using an electrical jack for cars as a starting point. Since the jack can easily lift a car, it would have no problem keeping a piece of stone in place.
Read the entire story in our Technologies and devices section.

Go to Top