Adapted iPod systems delivered
Latest News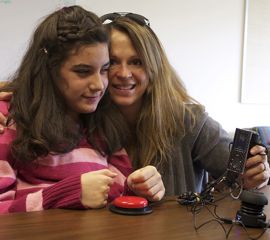 April 15, 2010
The CanPlay podWiz lets people with very challenging disabilities control Apple's popular iPod music player with a single switch. About 200 units have now been delivered to children across B.C.

To enable children with disabilities to use the iPod, engineers at CanAssist took an off-the-shelf Apple iPod and created an adapter for it. The unobtrusive adapter attaches to the iPod, allowing it to be controlled by a single button or switch – the location of which can be determined by the user. Users can select functions such as Play, Pause and Skip, as well as making volume adjustments, all by pressing the single switch. Some users can use two switches to control the iPod's more advanced functions.
See
our story
in the Technology section for details on this exciting project!
Go to Top