New device allows everyone to rack 'em up
Latest News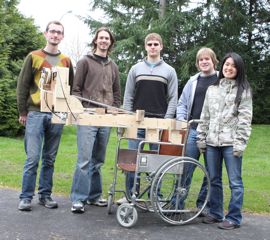 December 23, 2010
CanAssist has unveiled its most recent invention—a first-of-its-kind, high-tech device that allows people with severe disabilities to shoot pool.
The idea for the device arose when CanAssist held a Christmas party at a local pool hall. Unfortunately, staff member Dan Spelt couldn't participate because, having cerebral palsy, he's unable to hold a billiard cue.
The initial concept was developed by a group of third-year UVic mechanical engineering students, under the guidance of CanAssist Hardware Manager Darcy Lane.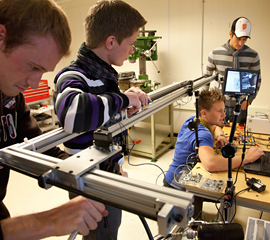 Later, four German exchange students, along with several members of CanAssist's engineering team, helped transform the design into reality. The device, attached to a
Storm Series Arrow*
power chair, features a wireless camera, a video monitor, pan-and-tilt control, and a laser-guided cue. It allows users to play billiards using one or two head switches, or an EMG switch that responds to facial muscle movement.
"To our knowledge, no one in the world has produced anything like this device," says CanAssist director Dr. Nigel Livingston. "It perfectly demonstrates the incredible ingenuity and passion within CanAssist that allows us to produce empowering technology."
The device was unveiled in the billiard room at UVic's University Club on Dec. 22. To see a video demonstration, check out
UVic's YouTube channel
.
* The power chair used with this billiards device was very generously donated to CanAssist by
MEDIchair Victoria
and
Invacare Canada
. (For more information, please see the
related story
.)
(Photo top left: Third-year engineering students present the original concept for the device. UVic's Mech 350 course requires that students work in teams to develop an assistive device for people with disabilities.)
Go to Top