Olympics covered with unique technology
Latest News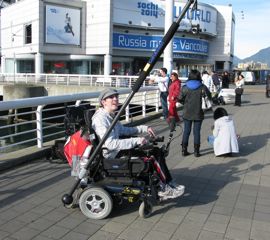 February 25, 2010
Steven Cayer is living his personal dream. On Feb. 25, the 17-year-old from Burnaby will be using one-of-a-kind broadcasting equipment to report on the 2010 Olympic festivities.
The fact that this aspiring journalist has cerebral palsy and travels by wheelchair won't slow him down a bit.
Steven will be using the CanAssist Polecam Power Chair, a technology designed by CanAssist at the University of Victoria. The device allows power-wheelchair users to keep pace while they film people and objects in motion. In fact, the prototype is so advanced that it enables videographers with disabilities to shoot professional-quality footage that would typically require as many as three able-bodied people to obtain.
CanAssist engineers embarked on the project after being approached in 2009 by Vancouver filmmaker Joe Moulins, whose brother lives with a challenging disability.
The engineers attached an eight-foot Polecam boom arm to a power wheelchair. A pan-and-tilt mechanism sitting at the end of the arm holds a small, high-definition video camera in place. A proficient user, such as Steven, manages three functions simultaneously: he controls the chair's movement with his right hand; he manipulates a joystick that adjusts the camera's angle with his left; and he changes the camera's height by blowing into a sip-and-puff device that raises and lowers the boom arm. A monitor provides him with a continuous live view of the shoot.
Steven, a Grade 12 student at Burnaby Mountain Secondary School, plans to enroll in a media arts program after graduating, where he will expand his experience with shooting and editing video. Last year, Steven was selected to participate in the "Junior Olympics Reporter" program, made possible through a collaboration of several organizations.
---
The creation of the CanAssist Polecam Power Chair would not have been possible without the very generous donations of the following partners:
Convergent Designs
Medichair Victoria and Invacare Canada (read the story on how these companies donated a high-tech power chair to CanAssist)

Polecam
Toshiba Europe GmgH
CanAssist greatly appreciates the support of these organizations.
Go to Top