Shaw funds innovative program
Latest News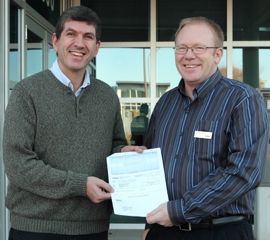 January 4, 2010
CanAssist is thrilled to have received $30,000 from Shaw Communications Inc. for the Building Bridges program.
The unique program will bring together families and educators, along with health-care and social service professionals to address issues and challenges related to children with special needs, ages 10 to 14, in Greater Victoria and the surrounding area.

"Parents of children with special needs often face challenges accessing services and frequently find these services to be disjointed," said Nigel Livingston, CanAssist's director.
"Our goal is to provide practical tools and an integrated approach to problem solving for each family that attends."
All participants will work together to develop individual education strategies for each child for the coming school year, along with any complementary therapy, recreation, counselling, medical treatment or respite they might require outside of school.
The program is the first of its kind in bringing together families, educators and health and social service providers to undertake joint planning to support individual children with special needs and their families.
On Dec. 8, CanAssist was presented with a cheque from Kerry Hunt, Regional Manager - South Vancouver Island, Shaw Cablesystems G.P.
The CanAssist team greatly appreciates the generosity and continuing support of Shaw Communications. Shaw is a remarkable community partner. Thank you Shaw!
Go to Top