Team effort behind ball launcher delivery
Latest News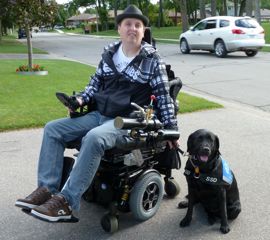 November 24, 2010
An Ontario resident is the latest recipient of CanAssist's popular Outdoor Ball Launcher for Dogs.
Phillip Raney, who lives in Brantford, read about the ball launcher on CanAssist's website and contacted us to see if we could make one for him and his dog, Nixon. The device, which attaches to a wheelchair, enables users to play fetch with their dogs, launching balls as far as 100 metres.
Phillip was physically active before being affected by lumbar disc disease. Now he travels by wheelchair and isn't able to throw a ball far enough to give Nixon enough exercise.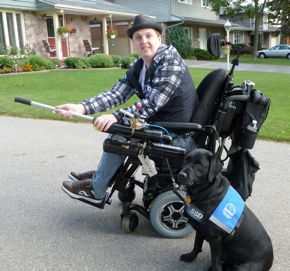 In Phillip's case, the challenge for CanAssist was one of geography. All previous ball launchers have been delivered to B.C. clients, so members of CanAssist's engineering team have always been on hand to ensure the device is correctly mounted onto wheelchairs and that the clients are properly trained in using them.
Travelling to Ontario wasn't an option, so CanAssist searched for a partner. In the end, we teamed up with the Tetra Society of North America. Tetra, an organization that helps people with disabilities lead independent and fulfilling lives, has a chapter in nearby Hamilton.
"We needed someone to go to Brantford, attach the device to Phillip's wheelchair, and show him how it works," said Brandon Fry, a mechanical design specialist at CanAssist, who has built five ball launchers in 2010. "Tetra had some engineers in the area who work as volunteers, so they said they could send someone to do the job."
Brandon made a short video on assembling and using the ball launcher, which made the job easier for Mike, the volunteer engineer, and Phillip.
Since the delivery, Phillip and Nixon have been playing fetch like never before.
"I haven't seen him run that far ever, as I was never able to throw a ball anywhere near as far as the launcher sends it," Phillip wrote to us recently. "I don't know how I can ever repay the Happiness and Joy this has brought to me already. Thank you from the bottom of my heart."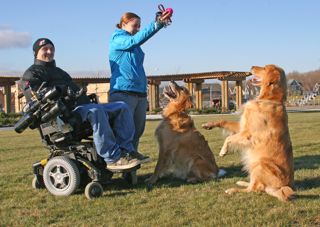 For more information on the Outdoor Ball Launcher for Dogs, please see our
Technology and devices
section.
Go to Top