Technology delivery gives bocce games a boost
Latest News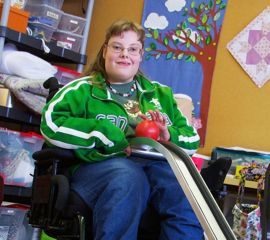 September 23, 2010
Two new Bocce Ball Chutes are bringing lots of excitement to games at Wellspring Support.
CanAssist recently delivered the pair of light-weight aluminum bocce chutes following a request from support workers at Wellspring, a day program for physically and developmentally challenged adults located on the campus of Burnside School in Victoria.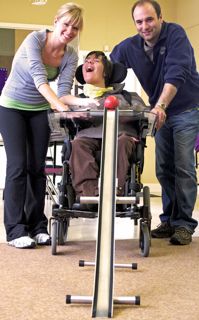 "It was nice to work with another organization that is so closely aligned with CanAssist in promoting inclusion and accessibly for those with disabilities," said Mike Jackman, of CanAssist's mechanical engineering team, following the delivery.
The new chutes allow participants, who often lack the motor control and dexterity required to play the sport, to better control the alignment and speed of the ball as it hits the ground.
"Clients are really good at inventing their own games and these bocce chutes mean everyone can participate," said Wellspring's Manager Kevin Burns. "CanAssist really delivered high-quality chutes that will last for many years and be enjoyed by our clients."
Karen Deegan, one of several participants delighted to give the new devices a whirl on delivery day, was thrilled to learn that they would remain at Wellspring for ongoing use.
"I really like bocce and the chutes make it really easy!" said Karen (who is shown in a photo at the top left corner of this page).
Go to Top