VOCYL celebrates two awards
Latest News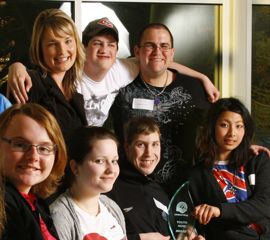 June 24, 2010
After all their hard work and commitment over the past year, VOCYL youth are thrilled to have recently received two awards.
VOCYL received a Youth Now Award from the United Way Youth Advisory Council, and a WOW! award from Community Living British Columbia.
VOCYL (Victoria Opportunities for Community Youth Leadership) has 18 members, from all backgrounds and with different abilities, who take part in bi-weekly meetings to increase their leadership skills. They develop and deliver interactive presentations to local schools, and participate in team-building and community-building events.
Tracy Gill-Lemke, VOCYL's program coordinator, said the group of young people were excited to have their work recognized.
"The VOCYL youth are so honoured to win these two awards," said Gill-Lemke. "It's such an affirmation of their amazing efforts throughout the year."
This year, VOCYL made more than 25 presentations at local high schools, middle schools and elementary schools, reaching more than 600 youth with its message of inclusion and belonging for everyone in society.
VOCYL won in the "Community Partner" category of the WOW! award, which is offered each year by CLBC. WOW! stands for "Widening our World" and is meant to reflect the contributions that nominees are making towards ensuring community inclusion and full citizenship for the individuals CLBC supports.
The United Way's Youth Now Award recognizes youths who give back to their community as part of an organized or informal group. Nominees for this award have provided extraordinary service to others, acted as role models for environmental stewardship, or demonstrated exceptional personal accomplishments.
VOCYL is the only inclusive youth leadership program in Victoria. Its goal is to share the message of inclusion and belonging for everyone, through presentations to schools and team-building events. VOCYL is co-supported by CanAssist and Community Living Victoria.
Go to Top