Teens support inclusion with paintbrushes
Latest News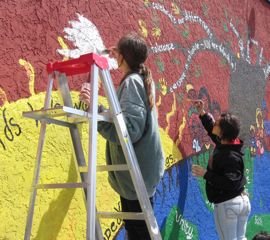 August 4, 2010
Victoria residents heading east along Hillside Avenue may have noticed a colorful new mural on the building that houses MLA Rob Fleming's office.
The mural, located at 1020 Hillside near 5th Street, was painted by VOCYL teens in partnership with Youth Combating Intolerance. Lori and Michael Rowe, owners of the building, generously donated the wall for use by the two programs.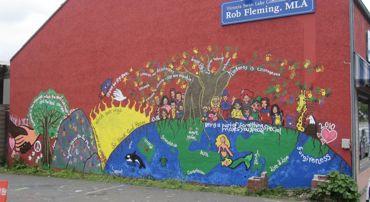 Victoria Opportunities for Community Youth Leadership (VOCYL) is a youth leadership program that is jointly supported by CanAssist and Community Living Victoria. VOCYL is made up of youth both with and without disabilities, who promote inclusion through interactive presentations and workshops at local high schools and community events.
Youth Combating Intolerance (YCI) is a program supported by the Victoria Police Department and is made up of students from School District #61 who address issues such as racism, homophobia and bullying.
With the assistance of local artist Stephanie McColl, the two youth groups – made up of those with and without disabilities – painted a colorful, eye-catching piece that encompasses the programs' values of diversity, inclusion and tolerance.
"I wish to thank everyone at VOCYL and the many students from YCI from Vic High, Spectrum and Oak Bay who worked so hard to create this beautiful community mural at my constituency office," said Rob Fleming, who is the MLA for Victoria-Swan Lake.
"This colourful, expressive and eye-catching artwork has received countless appreciative comments from Victoria residents."
More than 30 youth from the two programs worked on the project over a weekend, sharing the message of inclusion and belonging not only through their artwork, but also as they worked alongside one another.
Tracy Gill, VOCYL's program coordinator, said the mural was originally painted to commemorate National Youth Week in May – a celebration of youth and their meaningful engagement in the community.
"The mural is a really vibrant addition to the Hillside-Quadra neighborhood, " said Tracy. "Members from both programs hope that the piece will inspire and encourage everyone who sees it."
Read more about VOCYL's activities in the Programs section.

Go to Top