Automated Stamper to help teen's business
Latest News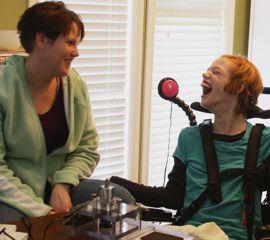 March 2, 2011
CanAssist's engineering team recently created an elegant device that enables a Victoria teen to participate more fully in her greeting card business.

Many of Katie's cards include a stamped image on them. So CanAssist's Mike Jackman created the Automated Stamper. The device is made of a clear durable plastic that supports a movable plate to which the stamp adheres. When Katie presses her head against a large button, the device is activated: a horizontal plate lowers quickly, forcing the stamp onto the paper. Once she releases the button, compression springs cause the plate to return to its starting position.
In January 2011, the device was delivered to Katie in her home. Read the entire story in our
Technology and devices
section.
Go to Top