Ball launcher makes games of fetch possible
Latest News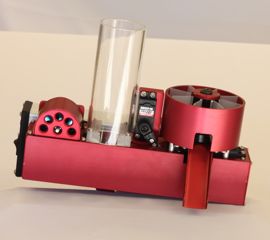 March 2, 2011
CanAssist recently delivered its new Mini Dog Ball Launcher to Shayla, who has always wanted to be able to play fetch with her dog, but until now has had to sit on the sidelines.

The unit attaches to Shayla's wheelchair and is operated with a head switch. Miniature tennis balls are fed into a clear plastic tube, and when Shayla presses the switch with her head, a spinning motor shoots the balls approximately 15 feet away.
An added bonus is that the device also lets Shayla give her dog, Bear, a treat when he retrieves the ball.
Read the entire story in our Technologies and devices section.

Go to Top