CanAssist ingenuity helps local cyclist bring home gold
Latest News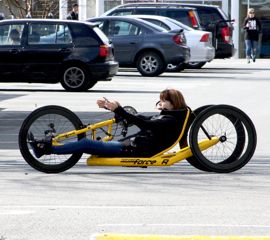 June 15, 2011
A Victoria athlete earned two gold medals at the UCI Paracycling World Cup in Spain last weekend thanks to her impressive skill, inspiring determination and two innovative devices developed by CanAssist at the University of Victoria.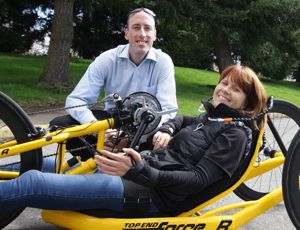 Karen March, a quadriplegic, competed in Segovia, Spain, finishing first in her class in a 36-km road race and a 13-km trial.
March and her coach say she would never have qualified for the prestigious international event if CanAssist hadn't modified her hand-powered bicycle by creating a gear-shift system controlled by her breathing and a sophisticated braking system that lets her slow down by back-pedalling.
Previously, March, who lacks fine motor control in her hands, had to undo the straps that hold her arms in place to operate the brakes and gears. "I'll say it over and over — if not for the system CanAssist made for me, this would have never happened," says March, who also earned the first-ever World Cup leader's jersey after her dominant performance.
Paracycling racing categories are determined by disability level. Until now, someone with March's level of disability could not have raced at the World Cup, says her husband and coach, Peter Lawless.
"Karen is effectively breaking open the entire class to all of the quadriplegic racers out there," Lawless says.
March was a passenger in a car accident in 1988 when she suffered a spinal cord injury. In 1998 she was introduced to wheelchair sports and since then has competed in numerous races, including the Paralympic Games in Athens in 2004.
On June 16, 2011, Karen returns to her old training ground at UVic to display her modified bike, her gold medals and her incredible skills. She'll be accompanied by her coach and several members of CanAssist's engineering team, who modified her bike so she could compete on a level playing field.
(For more information, please see the full story in the Technology and devices section.)
Go to Top