Carvers' work made easier thanks to improved tools
Latest News
July 14, 2011
Alistair Green and Garry Curry have two very important things in common: they are both quadriplegic and have both found a purposeful livelihood as stone carvers. These shared experiences brought them together to create the Vancouver Island Society for Disabled Artists, which provides studio space for several artists working with disabilities.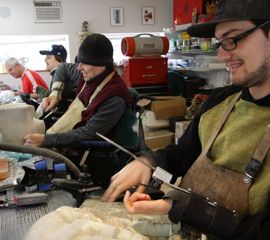 For the last few years CanAssist has played a significant role in supporting the work that Alistair, Garry and their colleagues do. Though each has the determination and persistence to turn a piece of stone into a beautiful work of art, their tools have sometimes held them back from realizing their full potential.
For example, the impact chisel that Alistair purchased to help him with his more detailed carving led to an ongoing problem: the tool didn't provide him with sufficient grip and its design didn't properly offset heat buildup, making it too hot to use for long periods of time.
So Rick Clark, a mechanical engineering co-op student with CanAssist, created a square aluminum tube into which the chisel could slide and attach. A large curved handle helped Alistair's grip and the space between the new tube and the chisel lessened the problem of heat buildup, along with a special heat resistant insert placed at the tool's metal base.
"I feel more confident in the gripping of the tool," says Alistair. "Before it was only a few minutes until my hand was burning, now I carve for hours at a time. I can finally put this expensive piece of equipment to good use!"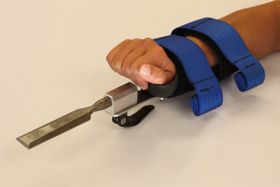 Rick's next project was to modify Garry's chisel. It's the same tool as Alistair's, but required a different adaptation – one not reliant on the carver's hands. Because Garry's disability is more extensive, the chisel was instead attached to a special splint he wears on his forearm.
Visitors to Alistair and Garry's studio immediately sense that the two men have created a very special place where people with disabilities have the opportunity to fully realize their potential.
They've created a kind of family, too, for others who have come to them to learn how to carve, including Robin Unger and Brent Frew.
After Alistair and Garry became mentors to Robin and Brent, they contacted CanAssist to ask if we could outfit the two with similar carving arm braces. Co-op students Zac Brown and Mike Lewis, outfitted both men with devices, one for each hand. Not only have the two carvers made great progress, but the tools have also helped them make better use of their muscles, improving their overall strength and dexterity.
"I'm just a chizzlin' and rifflin' fool, three days a week, 6.5 hours a day!" says Brent. "I'm using muscles I didn't even know I had!"
With the stone carving arm braces being such a success, Garry turned to CanAssist when he needed a different kind of vise to keep his stone in place while he was working on it.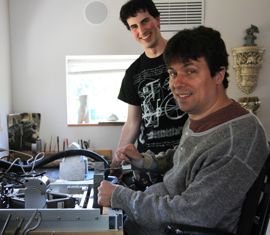 Once again, Mike Lewis set to work, this time using an electrical car jack as a starting point. The base on which the jack sits is made of wood and this was bolted to a lightweight aluminum frame. Wooden "jaws" with springs attached were added to hold a slab of stone in place. The electric vise opens and closes the jaws with the simple press of a button.
That it's powered electronically is the key to easy and independent use for Garry and the other artists.
"It is not huge and cumbersome and fits perfectly in the studio space," Garry says. "We love that the buttons are great for our dexterity needs."
For Garry and the others, clearly carving has become much more than a job.
"Sculpture is a great way to celebrate life," says Garry. CanAssist has been happy to join him and his family of fellow stone carvers in this celebration.
Go to Top