Devices promote independence, inclusion for Grade 1 boy
Latest News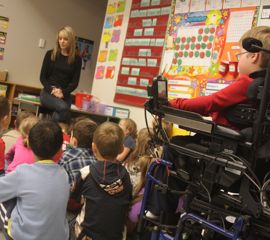 November 15, 2011
Ethan MacCaskill is as inquisitive, exuberant and precocious as a six-year-old boy can be. But his physical limitations were making it very difficult for him to participate in his Grade 1 classroom.
Having a condition called Arthrogryposis means Ethan has severely restricted movement in his joints. He manages to move his arm by biting down on an attached armband and hoisting his limb into position with his mouth. But he can't raise his hand to ask a question in class; and at playtime, it's impossible for him to participate in most activities.
"Ethan is enthusiastic and has a lot to contribute to classroom discussions," says Tanya Switucka, CanAssist's client relations manager. "His support team wanted to find a way for Ethan to independently alert his teacher without having to call out each time."
Hoping to find a way for Ethan to gain independence in communication and to be able to play more easily with his classmates, his learning support teacher contacted CanAssist.
The CanAssist team visited Colwood Elementary to get a better idea of Ethan's needs.
Following the visit, Paul Leslie, an electrical engineering specialist, began exploring ways Ethan could let his teacher know he had something to say. In the end, Paul chose to adapt a light fixture typically used on boats, which casts a bright, narrow beam. The battery-powered LED light was attached to the back of Ethan's wheelchair with a height-adjustable mount and wired so it could be activated by any accessibility switch.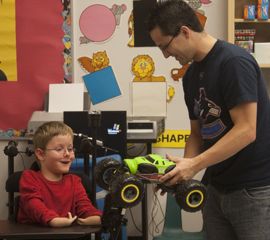 Once activated, the light remains on for 10 seconds. Another mode has also been programmed so that eventually Ethan will be able to press down on the switch for as long as he wants the light to shine.
"By pushing the switch on his wheelchair tray, Ethan can turn on the light whenever he wants to get the teacher's attention," says Paul.
Once Paul learned that Ethan loves toy vehicles, he then turned his attention to modifying a remote control car. He purchased a fairly typical car with two joysticks – one controls forward-backward movement, the other steers the car left and right. He dismantled the toy's remote control and interfaced it with a circuit he designed. These changes would allow Ethan to control the car from a specially constructed joystick that he could rest his arm upon. The joystick was embedded into a vinyl platform that could be easily removed and cleaned.
On delivery day, Ethan was bubbling with excitement. After just a bit of instruction, he could successfully activate the Classroom Alert System by himself resting his hand on the switch and pressing down with his body weight.
Not surprisingly, the toy car was a huge hit among all the Grade 1 students, who eagerly lined both sides of a school hallway and cheered as Ethan test drove the new car.
Ethan's learning support teacher, Anne Harbottle, says both devices are getting a lot of use and attracting much positive attention.
"It is wonderful for Ethan to have the car to play with when his peers are in gym," says Anne. "He is able to drive it as well as his peers, which give him a great sense of pride. It also makes him feel more included in gym activities that he normally would feel he is missing."
---
CanAssist would like to thank Variety – The Children's Charity for generously funding Ethan's Classroom Alert System.
We are also grateful to the CKNW Orphan's Fund, which made the development of Ethan's Remote Control Car Modification possible.
Go to Top