Horse riding made easier with modified glove
Latest News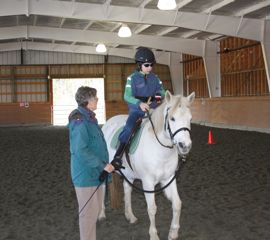 June 6, 2011
CanAssist recently delivered a modified glove that is enabling a 10-year-old boy to ride a horse more safely.
Jace Hancock received the Modified Riding Glove, which helps him control the horse with the reins more easily and also ensures he can quickly disengage in the event of a fall.
Horseback riding has been both a source of therapy and great fun for Jace, who has a condition that affects mobility on the left side of his body.
To read more about Jace and the Modified Riding Glove, read the full story in our
Technologies and devices
section.
Go to Top