Power chair donation a boon to engineering team
Latest News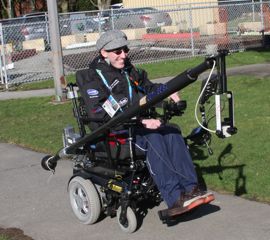 February 9, 2011
Invacare Canada and MEDIchair Victoria have donated a top-of-the-line power chair to CanAssist that will help in the development of many technologies for people with disabilities.

In January, the two companies announced that they would donate the chair, which had already been on loan to CanAssist for many months to help in the development and demonstration of two high-profile devices.
"We're thrilled to be given this high-quality power chair," said Robin Syme, assistant director -- partnerships at CanAssist. "It's extremely generous of MEDIchair and Invacare."

The chair, a Storm Series Arrow, was recently used in the creation of a unique device that allows people with severe disabilities to play billiards. The device, which was unveiled in December 2010, has received much interest and publicity. (For more information, see the Billiards story.)
The Arrow was also used to demonstrate CanAssist's Polecam Power Chair during the 2010 Winter Olympics. This technology allows power-wheelchair users to keep pace while they film people and objects in motion. The prototype is so advanced that it enables videographers with disabilities to shoot professional-quality footage. (For more information, see the story on the Polecam project.)
CanAssist Hardware Manager Darcy Lane says the donation of the power chair is wonderful news for his engineering team, who will continue to use the device for the years to come.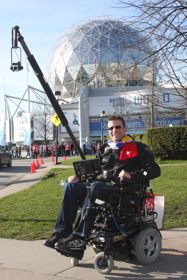 "This donation means that for the first time we have a professional-quality power chair that will help us with the design and testing of many technologies that require the use of a chair," Darcy said.
"We're really happy about this because it's going to help us design top-quality products."
Invacare Canada provides a full line of products to the home medical equipment industry through a network of Invacare dealers across the country. One of these dealers is MEDIchair Victoria, part of the Canadian-owned MEDIchair chain of more than 60 stores, which sells home medical equipment solutions that increase the independence of people with special needs.
MEDIchair is extremely pleased with its partnership with CanAssist, says General Manager David Coulter.
"By providing equipment and advice to support the efforts of CanAssist's engineering students, not only are people with physical challenges enabled to achieve their dreams," he says, "but also engineering students are learning about how to integrate the technological advancements in many areas of engineering with the increasing need for diversity and creativity in mobility aids."
Go to Top