Shredding paper a breeze for young man
Latest News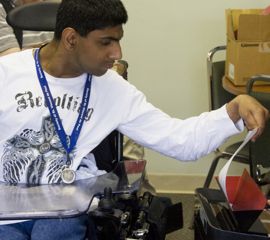 July 21, 2011
CanAssist has delivered a device that is enabling a young man to accomplish one of his favorite jobs with more ease – shredding paper.
Mainvir Gill helps out with administrative duties at the Frederick Ozanam Centre, which offers day programs for people with disabilities.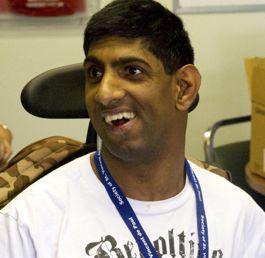 Earlier this year, staff at the centre asked CanAssist to build a customized shredder attachment for Mainvir after the young man took a liking to a similar device that had been created for another program participant. It became apparent to Ozanam staff that two devices were required to meet the needs of the two young men.
Last year, CanAssist provided Paul Torrinson with a "hopper" – a funnel-like attachment that makes the paper shredder's slot more accessible. The hopper is made of durable sheet metal and attaches easily to the paper shredder with Velcro.
Until now, Manvir had difficulty inserting a piece of paper at the correct angle because of his physical conditions, which include cerebral palsy. As a result, the machine would malfunction, requiring staff to fix it.
When CanAssist co-op engineering student Alex Vargas delivered the device, Mainvir was thrilled and immediately got to work. With his new hopper, Mainvir can now complete a favorite task independently.
Before the CanAssist team left, he gave us lots of smiles and a big thumbs up.
(This technology was delivered to Mainvir in June 2011. For more information, see Paul's story in Technologies and devices.)
Go to Top