VOCYL brings its message to middle school
Latest News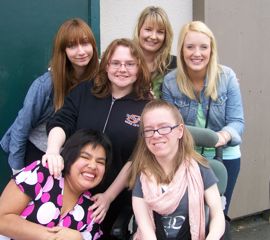 July 19, 2011
Earlier this year, VOCYL members delivered a series of inspiring workshops to more than 150 Grade 6 students at a local middle school.
The workshops challenged Grade 6 students at Glanford Middle School to remove the social barriers that can lead to loneliness, bullying and cliques, and to help them to develop skills that support inclusive relationships and a welcoming school culture.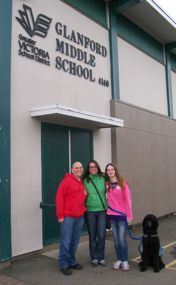 "VOCYL believes that bringing these kinds of issues to the point of awareness is the first step in creating change," said Tracy Gill, VOCYL's program coordinator. "The response from middle school students was extremely encouraging."
VOCYL – or Victoria Opportunities for Community Youth Leadership -- is a unique program supported by CanAssist and Community Living Victoria that brings together youths with and without disabilities who are interested in creating an inclusive community.
The group's Middle School Project, which took place in the spring of 2011, was very generously funded by Vancity, Telus and the Queen Alexandra Youth Advisory Council.
To prepare for the workshops, VOCYL members polished their leadership skills and practiced sharing personal stories during presentations. Mike Sheehan, of Beatboard Education and Training, led the VOCYL youth in several teambuilding activities that provided the necessary foundation for the development of the Middle School Project.
"When our members are connected and truly living the message of inclusion themselves, sharing it with others becomes that much more meaningful," Tracy said.
On April 15, VOCYL members, along with Mike Sheehan, held a kick-off assembly with all Grade 6 students at Glanford. Over a one-week period, VOCYL gave presentations to five Grade 6 classrooms of about 30 students each. VOCYL members led students in activities with intriguing names such as, "Cross the line," "Cliques," "Ice-berg" and "The Perfect Student." VOCYL youth shared their stories of inclusion and belonging and challenged the students to live inclusively and compassionately.
"I learned that something as simple as saying hello or smiling at someone can make a big difference."

- Grade 6 student, program participant

The project ended with a closing assembly, during which Mike Sheehan led students in activities that reinforced the message of inclusion and provided opportunities for students and teachers to share how the project affected them.
"Overall, we believe the Middle School Project was a huge success," says Tracy. "In fact, Glanford Middle School has asked us to return next year to present to the new Grade 6 students."
VOCYL members expressed their own feelings of empowerment in being able to share their stories, along with the sense of acceptance they received from the middle school students and teachers. Venturing into the middle school realm (VOCYL typically visits high schools to give presentations) proved rewarding for everyone involved.
VOCYL once again thanks funders Vancity, Telus and the Queen Alexandra Youth Advisory Council for making this worthwhile event possible.
For more information on VOCYL, please visit the group's website.

Go to Top