Youth program brings talent to the stage
Latest News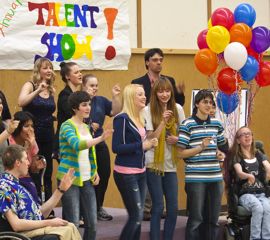 June 22, 2011
Stilt walking, harmonica playing, musical numbers from Glee, and even dog tricks – VOCYL's 3rd Annual Talent Show had them all!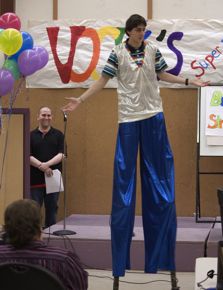 VOCYL hosted another amazing night of talent on May 24 that raised more than $1,000 for the inclusive youth leadership program, which is co-supported by CanAssist and Community Living Victoria.
Members of the VOCYL program spent months practicing and planning for the event, which showcased each member's unique gifts and talents.
For one family member it wasn't just the acts that were moving, but the overall feeling of the event: "It was inspiring to see youth, those with and without disabilities, cheering each other on and lifting one another up. They were truly and naturally inclusive."
More than 100 people attended the Talent Show and fundraising event. VOCYL youth, family members and local businesses contributed auction items and food to help make it successful, said Tracy Gill-Lemke, VOCYL's coordinator.
"Often young people with disabilities are seen for what they can't do, rather that what they can, so this is an amazing opportunity for them to say, 'Hey, I'm talented and I'm creative, and I'm more than my disability or the label attached to me'," said Tracy.
VOCYL and CanAssist wish to thank all those who supported the event and made it such a truly memorable evening.
For more information on the VOCYL program, see the Specialty Programs section of this website.

Go to Top