CanAssist's iPod adapter goes international
Latest News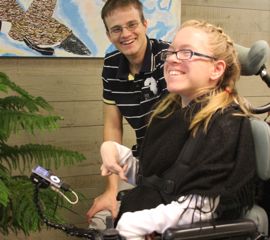 February 22, 2012
CanAssist's highly successful
iPod Switch Interface
is now available to people around the world, following the commercialization of the device by AbleNet Inc.
AbleNet, a U.S.-based international distributor of assistive technologies, recently introduced
Hook™ iPod® Audio Switch Access
as part of its product line.
The device, which allows people with a wide range of disabilities to operate an Apple music player independently, was originally developed by CanAssist's engineering team. The device provides simple to advanced control of an iPod or iPhone's music playlist with an auditory menu of functions that users control with a switch.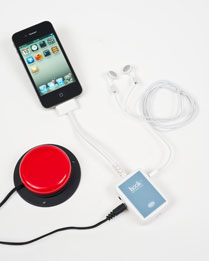 "Hook opens huge new worlds of education and entertainment," said Adam Wing, VP of Global Business at AbleNet. "Hook is a perfect solution for children and adults who want access to their audio library on their iPod, but can't physically touch the screen. That doesn't just mean music, but a full range of audiobooks as well."
By using an auditory prompt menu to control functions, Hook also provides access to the iPod audio library for people who are blind or have vision challenges, Wing added.
Hook's features include: simple out-of-the-box control of an iPod or iPhone's audio library; single or dual switch access modes; speaker output to headphones, portable speakers, or a home entertainment centre; configurable volume limits for hearing safety; choice of power from an Apple device or the included charger; audio prompts (for blind or low-vision users); and access to four languages (English, German, French and Spanish).
The final version of the device was developed under Apple's rigorous MFI program (Made for iPod/iPhone).
To learn more or purchase AbleNet's Hook please visit the company's website or find a local AbleNet reseller.

Go to Top