Accessible van makes work easier for CanAssist
Latest News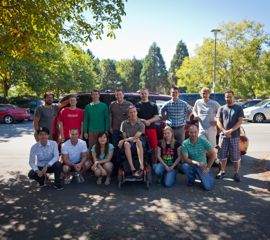 October 3, 2012
CanAssist is thrilled to have received a wheelchair-accessible van, which was bequeathed by Victoria resident Marion McNeely.
The van was left to CanAssist after Marion passed away at age 99 on June 24, 2012.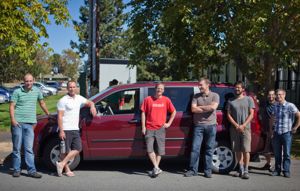 Marion, who was born in Vancouver on October 8, 1912, was predeceased by her husband of 60 years, Dr. Ross McNeely. Over the years, the couple generously supported the University of Victoria and CanAssist.
The van, a 2009 Dodge Caravan that was made accessible to accommodate Marion's wheelchair, will be of great use to CanAssist staff, particularly its hardware engineers, who will now be able to transport wheelchairs, walkers and other larger devices with ease.
"The van is really going to help us do our jobs more efficiently," said Darcy Lane, manager of hardware engineering. "It's a great new resource for the CanAssist team."
The van also represents a significant cost savings to CanAssist, which will no longer need to lease a vehicle.
CanAssist is most grateful to Marion – a gracious, delightful woman, who always put others before herself – along with her children, who assisted in the process of the van's transfer.
If you would like to support CanAssist, please visit our
Donation
page.
Go to Top