Looking for soccer volunteers
Latest News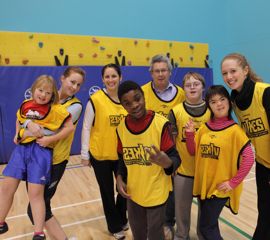 October 29, 2012
CanAssist is looking for volunteers to help at
Just for Kicks
, our free weekly program for kids of all abilities.

The success of
Just for Kicks
is largely due to the dedicated and enthusiastic volunteer soccer buddies who play alongside our young athletes to ensure they have fun and participate safely. We are currently have openings for additional soccer buddies, so come join us now! Just fill out a
JFK Volunteer Form
[PDF - 174 KB]
and send it to CanAssist's Volunteer Coordinator at the address or fax number listed on the form. No soccer experience is necessary.
At
Just for Kicks
, children with disabilities have a great time playing soccer, making new friends and being part of a team. Games take place Sunday afternoons (from 2 to 3 p.m.) from September through March at the
UVic McKinnon Gym
. There are no registration fees and children of all ages are encouraged to join. We provide soccer jerseys for everyone and, at the end of the program, we recognize each child's contribution with a medallion or trophy.
Go to Top