Norgaard funding provides technologies for young people with disabilities
Latest News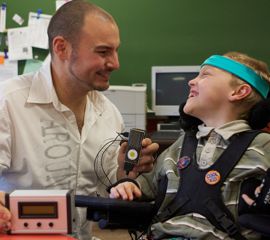 November 21, 2012
CanAssist is thrilled to have received a grant from the Norgaard Foundation that will provide customized technologies to young people with disabilities.
For the second year in a row, the Norgaard Foundation has provided CanAssist with $50,000 to develop technologies for young people with challenging disabilities on South Vancouver Island.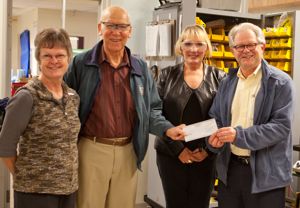 Last year, the Foundation's grant provided technologies to 10 young people. For example, a three-year-old girl with traumatic brain injury received a multi-surface iPad mount that will help her as she learns to communicate, while a 12-year-old boy with autism was given a stationary bike that plays DVDs when it is pedalled – motivating him to engage in much-needed exercise.
"Norgaard Foundation is delighted to offer support for some of the creative and innovative CanAssist adaptive technology projects which help to make many young individuals' lives easier and more fulfilling," said Tom Pringle, President of Norgaard Foundation.

CanAssist's ongoing partnership with the Norgaard Foundation and its use of the funding to promote independence and inclusion for individuals with disabilities is a wonderful demonstration of UVic's commitment to engaging and partnering with the community, said CanAssist Executive Director Howard Brunt.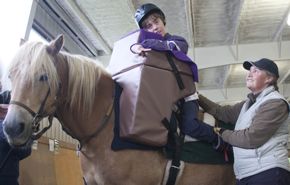 "We deeply appreciate the Norgaard Foundation's continued support," Brunt said. "As in previous years, the Norgaard Foundation's funding will have a tremendous impact on the independence and quality of life of young people with disabilities in our local communities."
In 2010, the Norgaard Foundation provided CanAssist with funding that was used to provide adapted iPod systems to 30 young people with very challenging disabilities.
The Norgaard Foundation is a private family foundation based in Sidney, B.C., which assists people with disabilities by providing facilities, equipment, apparatus and services in response to individuals' needs.
The late Kaare Norgaard experienced great success in his professional life and used that success to become an active and engaged philanthropist. He established the Norgaard Foundation in 1989 to help others enjoy a richer quality of life.
(The photo at the top of the page shows Elijah, who received a headband-operated EMG switch, which allows him to operate some devices simply by raising his eyebrows. This project was also funded by the Norgaard Foundation.)

Go to Top