UVic turns 50 - celebrate with us now through June 2013
Latest News
October 2, 2012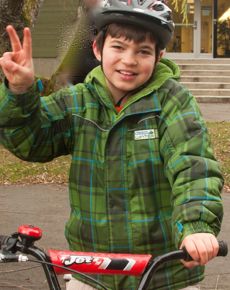 From September 2012 to June 2013, UVic will celebrate its 50th anniversary and you're invited to help mark this milestone. The university is gearing up for a whole
host of celebrations
as it engages with its past and looks to the future.
Check out the
UVic website
for information about the 50th anniversary. There are opportunities to
get involved
in the celebrations, organize your own
50th anniversary event
and stay informed and connected with the many exciting celebrations that will take place at UVic.
(The photo at the top of this page shows Shira and her father, Brad, at UVic's athletics track. Shira received a running stroller that was modified so the little girl could lie in a fully reclined position.)
Go to Top