VP to guide CanAssist in planning its future
Latest News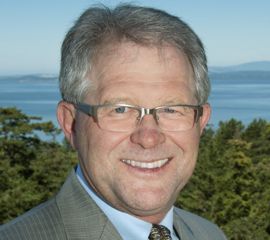 May 28, 2012
Dr. Reeta Tremblay, UVic Vice-President Academic and Provost, and Dr. Nigel Livingston, Director of CanAssist, are pleased to announce that Vice-President Research Dr. Howard Brunt has been appointed to provide CanAssist's administrative leadership for the coming year as it undergoes organizational renewal.
As interim CanAssist Executive Director, Brunt will work closely with Livingston and the CanAssist team to undertake a comprehensive strategic planning process. CanAssist has developed an international reputation for providing innovative customized technologies and services for people with disabilities. CanAssist employs about 25 regular full-time staff and many others who participate as co-op and graduate students, researchers, technology testers and volunteers.
Earlier this year, CanAssist went through its first extensive external organizational review since being recognized as an official UVic entity in 2008. CanAssist began as a small volunteer venture established in 1999 by Livingston, who saw the need for customized technologies that would address the very specific challenges faced by people living with disabilities.
The recent organizational review gave CanAssist very high marks for the enormous benefit it provides to people with disabilities – through its individualized technologies, unique community programs, contribution to raising awareness of disability issues, and high level of student engagement. The renewal process led by Brunt will build on the organization's highly successful history so that it can be both sustainable and ready for its move into new facilities in the Centre for Athletics, Recreation and Special Abilities (CARSA).
The review also recommended that CanAssist develop a strategic plan to clarify its vision and mission, and to guide its activities over the next three to five years. The plan will ensure that as CanAssist continues to grow, it will meet important goals, such as ensuring long-term financial sustainability, providing unique services to the disability community, and contributing to UVic's priorities in areas such as community service, student engagement, and health-related research and education.
"We're delighted that Howard has joined our team," said Livingston. "The addition of someone of Howard's expertise in administration and his stature at the university is a very gratifying reflection both of UVic's long-term commitment to CanAssist and its continuing support of the disability community."
Brunt's appointment will allow Livingston to focus his efforts on increasing CanAssist's linkages with UVic's research and educational programs in disability studies. Livingston is excited about the opportunity for his role to evolve, just as CanAssist itself is evolving. "I'm eager to put more of my energy back into research, education and student engagement," he said. "These are the areas where CanAssist's history began and I look forward to contributing to them even further in the future."
Brunt, who also recently agreed to remain UVic's VP Research for an additional year, will hold the two positions concurrently, with support from staff both at CanAssist and the Office of the VP Research.
"I am grateful to Howard for agreeing to lead this significant undertaking in the renewal of CanAssist," said Tremblay. "With his proven leadership in research, organizational oversight of research centers and platforms, the advancement of knowledge mobilization and outreach to the community, CanAssist will forge ahead on a path of continued success while ensuring financial and organizational sustainability."
Brunt said he has been a huge fan of CanAssist for many years.
"I'm very excited about joining such a passionate and talented team," he said. "I'll be working closely with Nigel and the other members of CanAssist's executive team, as well as consulting extensively with staff, members of the disability community, the university, and other stakeholders, to develop a strong, focused strategic plan."
In addition to Livingston assuming the role of Director – Research and Academic Liaison during the period of the review, CanAssist's executive team includes Dr. Doug Tolson, Director – Operations and Business Development, and Robin Syme, Director – Partnerships. Dr. Catherine Mateer, AVP Academic Planning, will continue to work closely with CanAssist and to chair its advisory board, made up of members from the university and the community.
Go to Top