CanAssist team goes all out for Bike to Work Week
Latest News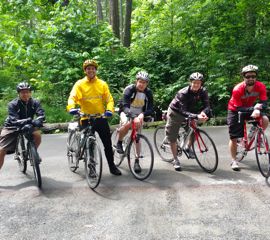 May 30, 2013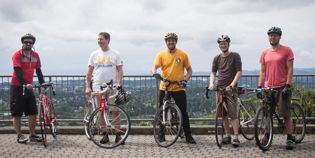 The thrilling highlight of an exciting
Bike to Work Week
at CanAssist featured five team members pedaling at breakneck speed to the summit of Mount Doug in Saanich on May 30.
During the past several days of
Bike to Work Week
, many CanAssist employees have braved rain, traffic and sore legs to cycle to their workplace at the University of Victoria. Some took very long routes that had them cycling to locations as far away as the northernmost tip of North Saanich.
On Thursday afternoon, five members of the CanAssist team cycled up Mount Doug, others drove alongside in a van, and all enjoyed a picnic at the summit.
CanAssist's long-time and tireless
Bike to Work
captain Ivan Petrovic was an inspiration during the week as he encouraged and cajoled staff to participate in an activity that is beneficial both to the environment and individual health.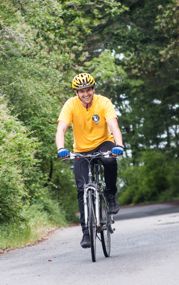 "This year in addition to
good weather, reduced CO2 emissions, endorphins, stronger quads, and helmet perms, we decided to include something new: the
BTWW Extravaganza
– five days of it!" said Ivan, who is also CanAssist's manager of facilities and equipment.
The
BTWW Extravaganza
featured daily events such as: a longest ride competition; a lunchtime barbeque; a Ring Road ride; a bike clinic; and another BBQ to be held on Friday, the final day.
Winners of the various events included: Carl Spani in the morning sprint category; Carl Spani, in the longest ride competition; Rob Somogyi for best helmet hair; Janna Sullivan in the new rider category; and Carl Spani for the Mount Doug ride. In a new category, best biking face, competition was fierce and the results were still coming in at publication time.
Congratulations to all.
Go to Top