CanAssist app promotes independence
Latest News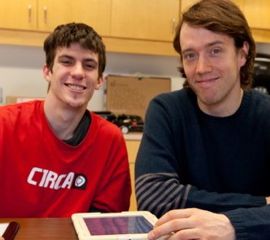 April 23, 2013

After suffering a brain injury a few years ago, Jordan Pimentel has found it difficult to focus on the steps required to complete many of the tasks of daily life.
Earlier this year, the young man began using a software app developed by CanAssist at the University of Victoria. Called CanPlan, the app helps people with memory and other cognitive challenges to complete virtually any task or activity independently. It is the first CanAssist app to become commercially available on Apple's online App Store, and has has brought a new level of confidence – both to Jordan and his support worker.
"It works great because I have a very fast-paced mind and end up missing things," said the 24-year-old Duncan resident, who sustained his injury in a motor vehicle accident in 2009. "It helps me accomplish the things I need to get done each day." (Jordan is shown in the photo above on the left, along with CanAssist's Chris Rajala.)

"This new technology has allowed Jordan to ease his anxiety by assisting him in his daily tasks," said Vicki Eason, Jordan's support worker. "I feel confident now about Jordan staying on track – even when we're not together."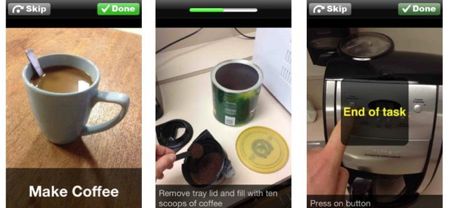 CanPlan enables users to break down any task into a sequence of easy-to-follow steps. The user initially goes through an activity with a support person or family member, taking photos of each step in the task and reinforcing them with text or audio, as needed. Tasks are then filed under customizable categories, such as food preparation, public transportation and workplace duties. Additional scheduling and reminder components ensure each activity gets done on time.
"We're finding that CanPlan is especially helpful to anyone who has difficulty performing activities that involve specific, consecutive steps," said Leo Spalteholz, CanAssist's manager of software. "This may include people with brain injuries, dementia and developmental disabilities."
The free version of CanPlan supports up to three tasks, while the full version ($44.99) supports an unlimited number. The app operates on Apple's iPhone, iPod touch and iPad devices.
CanAssist at the University of Victoria is dedicated to developing technologies for people with disabilities. While most CanAssist programs focus on clients in B.C., the organization has recently begun making its software technologies more widely available. Revenue from the sale of these technologies will be used to support the continued development of CanAssist services.

"People who have sustained a brain injury commonly have difficulty completing tasks in everyday life. Often this is not because they can't do things, but because they have difficulty planning and sequencing the steps necessary to complete task. In my clinical work with clients, I have often introduced written checklists. Although research has shown these can be helpful, the new CanPlan app, takes assistance in this area a big step further. Clients can use pictures of the steps in a sequence that taken in their own environment so they are familiar and salient. They can add or subtract photos as needed simply and easily. The app is personalized for each client, making it a powerful and adaptable tool to assist with task sequencing and planning. CanPlan uses new smartphone technology to support people with brain injury to successfully complete everyday activities, and to have some fun! I urge you to try it!"
Catherine Mateer, PhD
Clinical Neuropsychologist
Visit the App Store to download CanPlan.
See a video of the early version of CanPlan (called Task Manager).
CanAssist is most grateful to the Telus Victoria Community Board for its generous funding of the earlier stages of this project.
Go to Top