CanAssist volunteer looks forward to CARSA
Latest News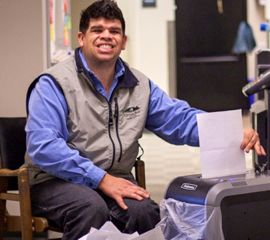 December 12, 2013

Every Wednesday morning, Matthew Steeves arrives at UVic and takes a moment to marvel at the progress being made in the construction of UVic's new Centre for Athletics, Recreation and Special Abilities.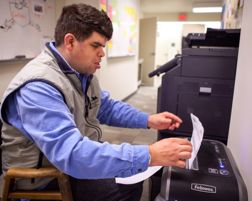 Once CARSA is complete in the spring of 2015, the long-time CanAssist volunteer will be among those moving into the state-of-the-art facility.
The new centre will house the Vikes sports and recreation programs, as well as CanAssist, the UVic organization that develops innovative technologies and programs for people representing the full spectrum of disabilities.
"Matthew loves watching the progress of CARSA – his new building!" says his mom, Pam.
Matthew joined CanAssist in 2007, offering his services as a volunteer office assistant. More than six years later, the dedicated young man continues to show up each week to water the plants, deliver the organization's mail to staff members and shred paper.
Over the years, Matthew has followed CanAssist as the growing organization moved to several different locations on campus. CanAssist started as a small volunteer venture in the Cunningham building in 1999. Later, many members of the team moved into the Engineering Office Wing, at which point Matthew joined the group. In 2009, CanAssist was provided space in the Technology Enterprise Facility on McKenzie Avenue, while some team members were located in other buildings on campus. For the past few years, the entire CanAssist team has been located in E-Hut near the McKinnon Gym, which is only steps away from the CARSA construction site.
Matthew says he's looking forward to the move to CARSA, which will place CanAssist front and centre in what is sure to be one of the most high-profile and busy hubs on campus.
"I'm excited," Matthew noted, during a recent shift at CanAssist. "It's getting higher and higher!"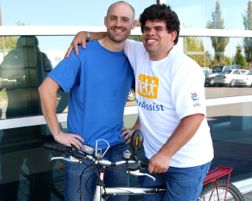 Since he started volunteering, Matthew has benefitted twice from the expertise of CanAssist's engineering team. Initially, he and his family requested a customized umbrella holder that could attach to his walker. Two years later, the team's electrical engineers modified a bicycle turn-signal so he can ride more safely.
Since its founding 14 years ago, CanAssist has relied on the passion, skills and generosity of many volunteers, including Matthew.
After a brief interview about CARSA, Matthew is keen to get back to the mound of paper that has accumulated over the past week.
Just one last question: what's his favourite part of the job? Matthew, whose smile brightens any room, doesn't hesitate.
"Shredding paper!"
Learn more about CanAssist's volunteer program or read more news stories about CARSA.
Go to Top