Celebrating CARSA
Latest News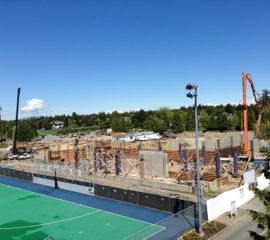 May 28, 2013
The University of Victoria and members of the community will officially mark the start of construction of the Centre for Athletics, Recreation and Special Abilities (CARSA), in a ceremony May 28 to celebrate the spirit of collaboration and momentum behind the building of this world-class venue.
When completed in spring 2015, the facility will be a dynamic new hub for active living. CARSA will strengthen UVic's competitiveness in attracting outstanding students. It will deliver quality recreational and experiential learning opportunities on campus and for the broader community. And it reflects UVic's commitment to athletic excellence, healthy living and values such as inclusion, accessibility and civic engagement. CanAssist, the unique organization at UVic dedicated to helping people with disabilities improve their overall quality of life and independence in daily living, will be a cornerstone for the complex.
The centre will include new offices, labs and a machine shop for CanAssist. These will help the organization fulfill its dream of becoming a leader in creating world-class innovative assistive technologies in support of people living with disabilities. UVic's School for Exercise Science, Physical and Health Education will also benefit from a repurposing of vacated space in the McKinnon Building to bring the school's programs and faculty together under one roof. In addition, CARSA will help support experiential learning (for example, a recreation-studies student in future might work with a client on the climbing wall), making the new facility an extension of the UVic classroom.
The ceremony takes place from 2 to 4 p.m., adjacent to the construction site near Gabriola Road and McKenzie Avenue, and will include notable speakers, CanAssist and recreational displays, and the unveiling of a plaque.
For the complete news release, please go to the
UVic Communications
website.
Josh Yates, shown right, received a CanAssist technology and is a current participant in our TeenWork program. He will be speaking at the CARSA celebration on May 28.
Go to Top