Innovative technologies profiled during CanAssist tour
Latest News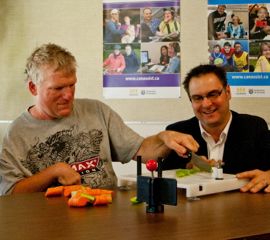 September 30, 2013
CanAssist was delighted to profile several new technologies that were developed to improve the quality of life of clients of Community Living BC during a tour Sept. 26.
The tour was attended by several CLBC representatives as well as Social Development and Social Innovation Minister Don McRae.
Last year, CLBC provided CanAssist with a $100,000 grant to develop customized technology solutions for seven adult clients with developmental disabilities in Greater Victoria. Each of the participants received two to four technologies designed to address their individual needs, goals and interests in three main areas:
improve access to meaningful activities and recreation
help overcome barriers to communication
increase independence in tasks of daily living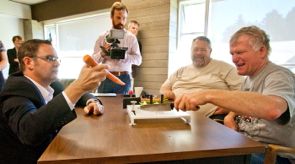 Examples of the technologies demonstrated included:
CanPlan- A software application for the iPad or iPhone that helps individuals with developmental disabilities or other cognitive challenges to break down virtually any task into a sequence of easy-to-follow photos, along with optional audio and text.
Food Prep Station - A customized chopping board that allows a client with the use of one hand to safely slice and chop food, along with several other food preparation functions.
CanTunes - A software app that provides an extremely simple way for people with a range of cognitive disabilities to select and play music on an iPad. CanTunes promotes independence, builds confidence and reduces the need for caregiver assistance with music.
Customized Tablet Mounts - Three individuals received a robust mounting system that ensures their iPad stays secure to wheelchairs, chairs, beds and tables - providing many choices as to where to use the device.
CLBC is a provincial Crown agency mandated to deliver supports and services to adults with developmental disabilities and their families in British Columbia. CLBC works with its partners to create communities where people with developmental disabilities have more choices about how they live, work and contribute.
"Seeing first-hand the innovative technologies that CanAssist is developing for people with disabilities is both impressive and incredibly inspiring," said McRae.

"These devices and technologies provide practical solutions that help a person with daily tasks and greatly improve their quality of life."
Go to Top