Operation Trackshoes a hit at UVic!
Latest News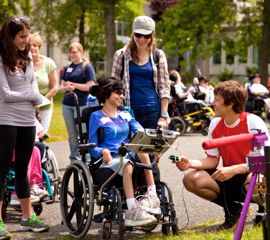 June 24, 2013
There were a lot of heavy hitters at this year's Operation Trackshoes event, as participants lined up to try out two CanAssist devices.
This year, the annual provincial sports festival attracted about 600 competitors and even more volunteers during the weekend of June 13 at the University of Victoria.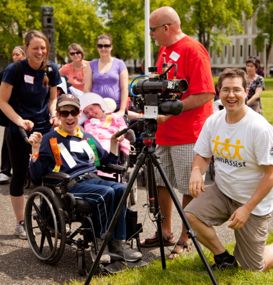 Five CanAssist staff members volunteered to provide assistance and access to two fun and innovative technologies: the automated BatSwinger and the Outdoor Ball Launcher for Dogs.
The BatSwinger, powered by compressed carbon dioxide, swings and hits baseballs from a tee. It can be activated by pressing a button called an accessibility switch – an important consideration for many people with challenging disabilities.
The popular Outdoor Ball Launcher for Dogs allows users to send a ball soaring as far as 100 metres.
Staff members Nathanael Kuipers and Christopher Rajala were in charge of the BatSwinger, while Paul Green assisted with the Ball Launcher. Dan Spelt and Tanya Switucka were also on hand to provide support and enthusiastic cheering for participants who showed up at both stations.
"I really enjoyed meeting all the people and seeing all the huge smiles," said Christopher, of CanAssist's software engineering team. "Everyone successfully hit a ball into the outfield!"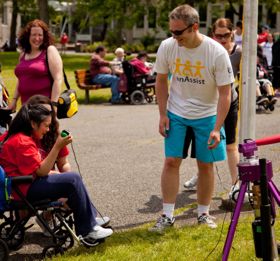 Operation Trackshoes, in its 43rd year, focuses on: providing a track, field and swim meet for people in B.C. who have a developmental disability; tailoring activities for people of all ages and levels of ability; and creating a safe, integrated event for all competitors and volunteers.
"It's a great opportunity to celebrate sports and the diverse abilities of individuals coming from across the province," said Tanya Switucka, CanAssist's manager of client relations. "I can't think of a better way to spend an afternoon."
(In the photo at the top of this page, CanAssist's Christopher Rajala assists participants at the BatSwinger station.)
Go to Top